Top News

An Israeli F-35 fighter jet is seen in a hangar during the "Blue Flag" multinational aerial exercise at the Ovda air force base, north of the Israeli city of Eilat, on November 11, 2019. (Emmanuel Dunand/AFP)

A massive multinational air force exercise held in southern Israel came to an end Thursday, the Israel Defense Forces announced.

Dubbed Blue Flag, the 10-day exercise continued throughout the fighting in Gaza on Tuesday and Wednesday, "with some adjustments and regard for professional and safety considerations," the army said in a statement. 

The exercise pit 70 combat planes from five air forces against each other in 19 sorties across six different locations around the country. Six more countries sent observers.

An Islamic Jihad video shows the new Buraq-120 rocket (screenshot)

Rocket fired from Gaza Tuesday morning (photo credit: REUTERS)

Sirens were heard in Nahal Oz, Tushiya, Alumim, Kfar Maimon on Thursday afternoon hours after a ceasefire was announced by the IDF. 

The IDF claims that the sirens went off in response to one rocket, which was intercepted over Netivot.

Since Tuesday morning, rockets were fired at Israel by the Palestinian Islamic Jihad (PIJ) after the targeted killing of its leader Bahaa Abu al-Ata. Palestinian media reports that riots broke out Thursday evening in Gaza, calling for revenge for the targeted assassination of Rasmi Abu Malhus, who was the commander of the rocket launching unit of the PIJ.

IDF tanks along the Gaza border (photo credit: REUTERS)

Prime Minister Benjamin Netanyahu threatened to continue targeting Palestinian Islamic Jihad on Wednesday as the terrorist group announced that it was far from ready to engage in ceasefire talks. 

"We are not talking of mediation, it's not appropriate to talk about it," A spokesperson for Palestinian Islamic Jihad said. "When we complete our response that we want to send, it will be possible to talk about calming things down."

Over 220 rockets have been fired at Israel by PIJ militants in the Gaza Strip in response to Israel's targeted killing of Islamic Jihad leader, Bahaa Abu al-Ata. Earlier in the day, there were reports in the Arab press that Israel had conveyed a message via the United Nations to Islamic Jihad that it was prepared to assassinate its leaders in Syria if the rocket fire did not immediately cease.

 

Palestinians gather around the remains of a house that the IDF says was used as a weapons cache controlled by the Palestinian Islamic Jihad, which was destroyed in an Israeli airstrike in Khan Yunis in the southern Gaza Strip November 13, 2019. (SAID KHATIB / AFP)

Palestinian youths look for salvageable items amid the rubble of a house destroyed in an Israeli air strike in Khan Yunis in the southern Gaza Strip November 13, 2019. (SAID KHATIB / AFP)

The Israeli military on Wednesday conducted large-scale strikes against Palestinian Islamic Jihad sites in Gaza, including a major weapons manufacturing facility, as  terror groups continued firing regular barrages at southern Israel in response to the assassination of one of its senior commanders the day before.

The Israel Defense Forces said one of its aircraft also bombed a pair of PIJ members preparing to fire an anti-tank guided missile from the northern Gaza Strip. The use of anti-tank missiles — an expensive, highly accurate weapon — signifies a marked escalation by the terror group.

"In the latest round of strikes, the IDF stepped up the frequency of its attacks and the type of targets. During the strike, a major factory for the production of rocket warheads was attacked in the southern Gaza Strip. This is a site for the production of rockets and of the specialized raw materials for the manufacturing of long-range rockets," the military said.

Psagot is an Israeli settlement situated in the West Bank between Ramallah and Jerusalem (Photo: Abbas Momani/AFP/Getty Images)

Retailers must mark food made in Israeli settlements with special labels, the European Union's highest court has ruled, in a decision that could affect products found on British shelves.

The European Court of Justice said on Tuesday that items must be clearly labeled if they originate from an Israeli settlement.

The ruling concludes a long-running case brought by Psagot, a winemaker based in a West Bank settlement north of Jerusalem, which was challenging labeling requirements in France.

"Foodstuffs originating in the territories occupied by the State of Israel must bear the indication of their territory of origin," the Luxembourg-based court said in a statement, adding that if it they came from a settlement, they must carry an "indication of that provenance".

Turkish President Recep Tayyip Erdogan on Tuesday issued a chilling threat to Europe over looming sanctions over Ankara's unauthorized drilling in the Mediterranean: penalize us and we'll release ISIS prisoners back to European countries.

"You should revise your stance toward Turkey, which holds so many IS members in prison and controls them in Syria," he told reporters.

The Associated Press reported that his comments were in response to the European Union's unveiling of a system for imposing sanctions on Turkey over drilling off Cyprus.  He made the comments while speaking to reporters prior to a trip to the U.S. to meet with President Trump.

Sen. Chuck  Schumer, D-N.Y., took to Twitter last week to criticize Trump for rolling out the welcome mat for Erdogan, "an autocrat whose actions threaten our allies & partners."​

Prime Minister Benjamin Netanyahu and IDF Chief of Staff Aviv Kochavi speak from the IDF h... (Photo: Moti Kimchi)

Israel does not want an escalation of violence after the IDF killed an Islamic Jihad commander in Gaza, IDF Chief of Staff Aviv Kochavi said Tuesday, but warned the country was prepared for such a scenario and would even use further targeted killings to protect itself. 

Kochavi was speaking alongside Prime Minister Benjamin Netanyahu and Shin Bet Director Nadav Argman said Tuesday after the three emerged from an hours-long security cabinet meeting at the military headquarters in Tel Aviv.

"We are preparing air, naval and ground defenses as well as for continued fighting. If we must, we will also move to targeted killings," Kochavi said.

"Baha Abu al-Atta was the senior commander of Islamic Jihad in the Gaza Strip. He was the man responsible for most of the attacks that emanated from the Gaza Strip during the past year and even before," he said.

"He was responsible for sniper fire and shooting attacks, he was responsible for dozens of rocket strikes.

In this photo taken on October 21, 2016, Palestinian Islamic Jihad leader Baha Abu al-Ata attends a rally in Gaza city. (STR/AFP)

Palestinian Islamic Jihad declared Tuesday that it was preparing for war with Israel after the IDF carried out a dawn assassination of one of the terror group's senior leaders in the northern Gaza Strip.

"These terrorist crimes are aggression and a declaration of war on the Palestinian people, and the enemy bears responsibility for them," PIJ said in a statement following Israel's targeted killing of Baha Abu al-Ata.

"The Al-Quds Brigades [PIJ's military wing] and the valiant resistance, which announced a mobilization [of its fighters] and started to hit back against this aggression and terrorism, will continue to forcefully and courageously defend the dignity of the Palestinian people," it said.

Head of the IDF Southern Command Maj. Gen. Herzi Halevi oversees an operation to assassinate Palestinian Islamic Jihad commander Baha Abu al-Ata on November 12, 2019. (Israel Defense Forces)

The Israel Defense Forces on Tuesday ordered schools closed in southern and central Israel, including the Tel Aviv metropolitan area, as terror groups in the Gaza Strip began firing dozens of rockets at cities and towns throughout the country in retaliation for the assassination of Palestinian Islamic Jihad senior commander Baha Abu al-Ata.

"We are prepared for several days of battle with an aerial defense shield, including in the center of the country," IDF spokesperson Hidai Zilberman told reporters Tuesday morning.

Approximately 150 rockets and mortar shells were fired from the Gaza Strip at central and southern Israel on Tuesday as of 1 p.m., according to unofficial tallies. Soldiers operating the Iron Dome missile defense system shot down some 60 of those incoming projectiles.

 

Marine Corps Gen. Kenneth "Frank" McKenzie, commander of U.S. Central Command, speaks as a picture of the operation targeting Abu Bakr al-Baghdadi is seen during a press briefing October 30, 2019 at the Pentagon in Arlington, Virginia. (Alex Wong/Getty Images/AFP)

The commander of American military forces in the Middle East arrived in Israel on Saturday for meetings with the Israel Defense Forces' top brass, amid ongoing turmoil in the region after the US withdrew many of its forces from northern Syria last month.

Gen. Kenneth F. McKenzie, Jr. touched down on Saturday for his first visit in Israel since becoming head of US military's Central Command, or CENTCOM, in March. 

McKenzie's trip was the second-ever visit by a commander of US CENTCOM to the Jewish state.

Though Israel is in the Middle East, it does not often work directly with CENTCOM, and instead cooperates with the US military's European Command, or EUCOM. This is widely seen as an attempt by the US military to avoid conflict with other countries in the Middle East whose populations generally have a negative opinion of Israel.

The Russian nuclear submarine Dmitrij Donskoj. (photo credit: SCANPIX DENMARK/REUTERS)

Three months ago, the Israeli Navy identified a Russian submarine about eight miles away from the Dan coastal area in central Israel, reported Ynet news.

After IDF naval officers consulted with their Russian counterparts, the Russian submarine left the area and sailed west to the Mediterranean. 

The IDF did not confirm whether Israel's security was damaged and how long the Russian submarine stayed there.

In the past, such incidents took place between Israeli and Russian vessels in international waters in the Mediterranean routes, and the tension ended with coordination between the crews. In one case, an Israeli Navy missile ship approached the Russian aircraft carrier "Kuznitsov" just a few hundred meters away.

Blue and White leader Benny Gantz addresses members of his faction during a meeting in the Knesset on November 11, 2019 (Elad Malka)

Blue and White party leader Benny Gantz on Monday said his party would be willing to consider compromising on some of its positions in the interest of forming a broad unity government alongside Likud and Yisrael Beytenu.

He also took a shot at Prime Minister Benjamin Netanyahu, calling on him to focus government-building negotiations on "what interests Israeli citizens — and not just what interests you." 

On Saturday, Yisrael Beytenu Avigdor Liberman presented a challenge to both Netanyahu and Gantz, saying that if either of them failed to back a unity government according to a proposal set out by President Reuven Rivlin and accept tough compromises in order to form a coalition together, he would walk back his commitment to a national unity government and support a minority government led by the candidate willing to compromise.

 
---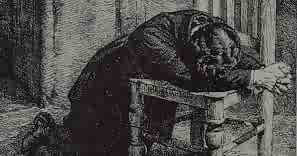 "The men who have done the most for God in this world have been early on their knees. He who fritters away the early morning, its opportunity and freshness, in other pursuits than seeking God will make poor headway seeking Him the rest of the day. If God is not first in our thoughts and efforts in the morning, He will be in the last place the remainder of the day." 
― E.M. Bounds