Top News

A composite image of incoming prime minister Benjamin Netanyahu (right) and outgoing prime minister Yair Lapid leading their respective Likud and Yesh Atid faction meetings at the Knesset, on November 8, 2021. (Olivier Fitoussi/Flash90)

Prime Minister-designate Benjamin Netanyahu on Friday censured outgoing prime minister Yair Lapid for "attempting to incite rebellion among military officers and local authorities against the elected government."

His comments came after Lapid urged local authority leaders not to cooperate with an extremist far-right member of the incoming government on educational issues, and after he was reported to warn a military general earlier this week against allowing the far-right "to gain control over the military."

"Lapid's conduct is dangerous and hurts democracy," Netanyahu said in a statement. "We must leave the IDF out of any political debate. Senior officers certainly must not be incited to rebellion against a government that was elected by the people. It crosses a red line."

Likud leader Benjamin Netanyahu with Shas leader Aryeh Deri, Religious Zionist Party head Bezalel Smotrich and other party leaders at a swearing-in ceremony of the 25th Knesset in Jerusalem, Nov. 15, 2022. Photo: Olivier Fitoussi/Flash90

(December 1, 2022 / JNS) The Likud and Religious Zionist parties reached a coalition agreement on Thursday evening that clears the way for Prime Minister-designate Benjamin Netanyahu to form a government backed by 64 members of Israel's Knesset.

Under the accord, Religious Zionist Chairman Bezalel Smotrich will become finance minister for two years under a rotation deal with Shas Party head Aryeh Deri. 

The Religious Zionist Party, which has seven members of Knesset, will also get a post in the Defense Ministry that will be responsible for District Coordination and Liaison Offices (DCL) and the Civil Administration in Judea and Samaria, as well as the Settlement Division of the World Zionist Organization, Sherut Leumi (National Service) and pre-military academies (mechinot). The official will act with the coordination and agreement of the prime minister.

A drone is launched during a military exercise in an undisclosed location in Iran, in this handout image obtained on August 25, 2022. (photo credit: Iranian Army / West Asia News Agency / Handout via Reuters)

Iran has conducted at least 16 separate attacks on international vessels in the Gulf and Red Sea in the past five years and can reach a significant quantity of enriched uranium for one nuclear bomb (SQ1) at 90% in only two weeks, Defense Minister Benny Gantz said Thursday.

"Just this month we saw an attack on a commercial vessel using a Shahed 136 UAV, which was launched from the Chabahar region of southern Iran," Gantz said. This is the same area I discussed a year ago with your ambassadors, as a hotspot of terrorism. In fact, in the last five years, Iran has conducted at least 16 separate attacks on civilian international vessels in the Gulf and the Red Sea."

Gantz, who made the comments during a security briefing for defense attaches of over 30 countries, stressed that the Islamic Republic is not only a threat to Israel, but poses a challenge to the region and the world.

Likud head and prime minister-designate Benjamin Netanyahu is seen with RZP chief Bezalel Smotrich on December 1, 2022. (photo: Likud Spokesperson)

Prime minister-designate Benjamin Netanyahu's Likud reached a partial coalition agreement with the Religious Zionists Party (RZP) on Thursday evening, following three weeks of intense negotiations, the factions confirmed. 

As part of the agreement, announced in a joint statement, RZP chief MK Bezalel Smotrich will become finance minister in a rotation. RZP will also receive the Aliyah and Integration Ministry and a new ministry dubbed the National Tasks Ministry.

One of these will also serve as a minister in the Defense Ministry responsible for the settlements in the West Bank, which will act "in accordance and agreement with the prime minister," the joint statement reads

The UN General Assembly voted Wednesday afternoon in favor of holding a commemorative event in honor of the 75th "Nakba Day," the Palestinian name for Israel's establishment, which translates to "catastrophe."

The vote was 90-30, with 47 abstentions. The United States, Canada, Australia and the United Kingdom were among those who opposed the move. Most of the European Union also rejected the, save for Cyprus which supported the measure.

Ambassador to the UN Gilad Erdan called in his address ahead of the vote for the UN to "stop ignoring the Jewish Nakba," referring to the 750,000 Jews expelled from Arab and Muslim countries in the aftermath of Israel's establishment.

Palestinian Authority leader Mahmoud Abbas receives U.S. envoy Hady Amr and his delegation in Ramallah, Oct. 4, 2021. Credit: Thayer Ghanayem/WAFA Images.

(November 30, 2022 / JNS) The Biden administration is committed to the two-state solution and there is still a possibility of reopening the shuttered Jerusalem consulate to the Palestinians, Hady Amr, who was recently appointed the State Department's special representative for Palestinian affairs, said on Wednesday.

"It's a real honor to serve as the U.S. government's first [special] representative to the Palestinian people and leadership. The creation of this role is unprecedented and elevates Palestinian issues and our engagement on it," Amr, previously the deputy assistant secretary of State for Israeli and Palestinian affairs, told reporters.

An American KC-135 aerial refueling aircraft refuels IAF F-16i fighter jets during an exercise over Israel, November 30, 2022. (Israel Defense Forces)

The Israel Defense Forces on Wednesday published footage and details of a series of joint aerial exercises it held with the US military this week, simulating strikes against Iran and its regional terror proxies.

In a statement, the IDF said that during drills, which took place over Israel and the Mediterranean Sea, four IAF F-35i fighter jets, accompanied four American F-15 aircraft and an American KC-135 aerial refueling aircraft, refueled several IAF F-16i fighter jets.

The IDF said the drills also "simulated an operational scenario and long-distance flights."

A Ukrainian tanker in the east of the country Monday. Ukraine will not join NATO any time soon despite Stoltenberg's comments. (photo: Yevhen Titov, AFP - Getty Images)

NATO Secretary-General Jens Stoltenberg reaffirmed the military alliance's commitment to Ukraine on Tuesday, saying that the war-torn nation will one day become a member of the world's largest security organization.

Stoltenberg's remarks came as Secretary of State Antony Blinken and his NATO counterparts gathered in Romania to drum up urgently needed support for Ukraine aimed at ensuring that Moscow fails to defeat Ukraine as it bombards energy infrastructure.

U.S. Army MIM-104 Patriots, surface-to-air missile (SAM) system launchers, are pictured at Rzeszow-Jasionka Airport, amid Russia's invasion of Ukraine, Poland March 24, 2022. (photo: Reuters / Stringer)

Former Russian President Dmitry Medvedev warned NATO on Tuesday against providing Ukraine with Patriot missile defence systems, denouncing the alliance as a "criminal entity" for delivering arms to what he called "extremist regimes".

"If, as (NATO Secretary-General Jens) Stoltenberg hinted, NATO were to supply the Ukrainian fanatics with Patriot systems along with NATO personnel, they would immediately become a legitimate target of our armed forces," Medvedev wrote on the Telegram messaging app.

It was not clear from his message whether he was referring to Patriot systems, Ukrainian forces or NATO personnel becoming a target.

A tow truck pulls away one of the vehicles rented by the Secret Service to protect President Biden in Nantucket. (photo: Nantucket Current, @ACKCurrent)

President Biden's rented Secret Service vehicles burst into flames in a parking lot Monday, just one day after he left his Nantucket vacation.

Biden spent Thanksgiving on the ritzy Massachusetts island with his family last week. The Secret Service rented five vehicles from Hertz to carry the president and his family, and all five of them caught fire in the parking lot, according to footage first obtained by the Nantucket Current.

Footage shows firefighters spraying down the smoldering remains of one vehicle's engine block. The five vehicles included a Chevy Suburban, Ford Explorer, Infiniti QX80, Ford Expedition, and a Jeep Gladiator.

Prime Minister Yair Lapid sends a letter to over 50 nations asking them to pressure the PA to abandon its drive to refer the conflict to the International Court of Justice in The Hague (PMO)

Outgoing Prime Minister Yair Lapid asked dozens of world leaders on Monday to dissuade the Palestinians from moving forward in their effort to refer the Israeli-Palestinian conflict to the International Court of Justice.

In a letter sent to more than 50 countries, Lapid called the Palestinian campaign, which included a United Nations committee vote earlier this month, "a concerted effort to single out Israel, to discredit our legitimate security concerns, and to delegitimize our very existence."

The November 11 resolution, titled "Israeli practices and settlement activities affecting the rights of the Palestinian people and other Arabs of the occupied territories," passed the UN General Assembly Fourth Committee with 98 in favor, 17 opposed and 52 abstentions.

An explosion is seen during an Islamic Revolutionary Guard Corps (IRGC) ground forces military drill in the Aras area, East Azerbaijan province, Iran, October 19, 2022. (photo: IRGC / West Asia News Agency - Handout via Reuters)

Under the guise of reporting on reports by Beirut-based Al Mayadeen, a pan-Arabist satellite news channel, media outlets close to the Islamic Revolutionary Guard Corps (IRGC) have published a list of "sensitive" sites that could be targeted in a future war. The reports listed a number of buildings and sites in Israel in what was clearly intended as a threat.

The article included a list of sites in Israel, such as the Knesset, the Prime Minister's Office and the Defense Ministry. It included what Tasnim characterized as "nuclear sites and facilities." In the list of "warehouses" and facilities, the report included a Rafael Advanced Defense Systems site in Haifa, the Weizmann Institute of Science in Rehovot and the Technion-Israel Institute of Technology in Haifa.

A US Air Force B-1b heavy bomber was escorted by an IAF F-15 fighter jet above Israeli airspace on October 30, 2021. (photo: IDF Spokesperson's Unit)

The Israel Air Force this week will hold one of its largest drills in years with the United States Air Force simulating offensive strikes against Iran's nuclear program.

The drill will take place from Tuesday until Thursday over the Mediterranean Sea and Israel. It will include long-range flights such as those that Israeli pilots might need to make in order to reach the Islamic Republic.

Washington and Israel have signed an agreement that would see the US come to assist Israel with missile defense in times of war, and the two militaries have held numerous joint air defense exercises in recent years.

Prime Minister Benjamin Netanyahu speaks with settlement activists during the 2022 campaign. (photo: Israel Hayom, Oren Ben Hakoon)

Otzma Yehudit leader and the next national security minister, MK Itamar Ben-Gvir, plans to launch a new effort that could culminate with a boost to grant retroactive approval to unauthorized settlements in Judea and Samaria, Israel Hayom has learned. 

According to the plan, under his new portfolio, Ben-Gvir plans to advance measures to expropriate land for developing infrastructure, as well as to allot hundreds of thousands of shekels to various unrecognized communities that have so far lacked official status The plan depends in part on having the necessary sign-off from the various other agencies outside his ministry. It also includes a boost to the staff in the Civil Administration, which administers civilian matters in Judea and Samaria on behalf of the Defense Ministry, to make the implementation go faster. 

The plan is a direct consequence of the newly announced agreement between Likud and Otzma Yehudit that guarantees the latter's support in the upcoming confidence vote to swear in Likud leader Benjamin Netanyahu as prime minister for the sixth time. The decision to grant the party overall responsibility for the approval process of unauthorized settlements has led to a backlash on the Right, with some accusing Netanyahu of handing over this prerogative to Ben-Gvir despite him lacking the required experience, in an apparent effort to avoid any meaningful progress on this hotly contested issue.

Farideh Moradkhani, niece of Iran's Supreme Leader Ayatollah Ali Khamenei, in a video posted online criticizing her uncle's regime. (Twitter video screenshot: used in accordance with Clause 27a of the Copyright Law)

Farideh Moradkhani, the niece of Iran's Supreme Leader Ayatollah Ali Khamenei, has been arrested after calling on foreign governments to cut all ties with the Iranian government.

Moradkhani was arrested on Wednesday when she went to the prosecutor's office in response to a court order, according to a tweet from her brother Mahmoud Moradkhani.

In a video statement shared by her brother prior to her arrest, Moradkhani called on people around the world to urge their governments to cut ties with the Iranian regime amid protests sweeping the nation, and to ask their governments to "stop any dealings with this regime."

Iran's Majid Hosseini, from right, Iran's Morteza Pouraliganji and Iran's scorer Rouzbeh Cheshmihe celebrate after winning the World Cup group B soccer match between Wales and Iran, at the Ahmad Bin Ali Stadium in Al Rayyan, Qatar, November 25, 2022. (photo: Frank Augstein, AP)

After a World Cup start clouded by a disastrous loss and persistent questions about the civil unrest back home, Iran is celebrating the prospect of its first-ever trip to the knockout stage.

But first, Team Melli faces the United States.

Iran defeated Wales 2-0 Friday and collected the three points to rise from the bottom of Group B. England and the United States played to a scoreless draw on the same day — setting up a politically fraught match between Iran and the Americans on Tuesday that will decide which team goes through to the round of 16.

The IRGC's Bavar-373 air-defense system. (photo: Mehr News Agency)

Syria and Iran have been deploying new air defense systems, including jamming and early warning systems, around Damascus in order to prevent Israeli airstrikes in the area, according to the Syrian Capital Voice site.

According to the report, the new systems were built by Korean and Chinese companies and provided by Iran as part of agreements reached between Syria and Iran.

Sources told the Capital Voice that the Syrian Defense Ministry tested jamming systems in October, succeeding and getting Israeli aircraft to leave Syrian airspace at least twice.

A deactivated Soviet-era SS-4 medium range nuclear capable ballistic missile is displayed at La Cabana fortress in Havana October 15, 2012. (photo: Desmond Boylan, Reuters)

Russia is likely removing nuclear warheads from aging nuclear cruise missiles and firing unarmed munitions at Ukraine, Britain's military intelligence said on Saturday.

The defense ministry said open source imagery shows wreckage of an air-launched cruise missile fired at Ukraine which seem to have been designed in the 1980s as a nuclear delivery system, adding that ballast was probably being substituted for the warheads.

Such a system will still produce damage through the missile's kinetic energy and unspent fuel. However, it is unlikely to achieve reliable effects against intended targets, the ministry added in its daily intelligence update posted on Twitter.

Prime Minister-elect Benjamin Netanyahu and Otzma Yehudit leader Itamar Ben-Gvir. (photos: Liron Moldova and Oren Ben Hakoon, Israel Hayom)

Prime Minister-elect Benjamin Netanyahu and far-right Otzma Yehudit leader Itamar Ben-Gvir signed a coalition agreement Friday after a week-long delay in negotiations due to disagreements over ministerial roles.

Ben-Gvir will be appointed national affairs minister, a post that is a version a version of the public affairs portfolio with an expanded purview that also includes the Real Estate Enforcement division and the Judea and Samaria Border Police division.

Additionally, Ben-Gvir's party will be tasked with Negev and Galilee ministry – which will now be decoupled from the Social Periphery Ministry – and the Heritage Ministry. Otzma Yehudit MK Amichai Eliyahu will preside over the latter, while the Negev and Galilee Ministry will be headed Yitzhak Wasserlauf, the faction's deputy leader.

"We took an important step to establish a full right-wing government," the Otzma Yehudit leader said after the signing. "I am happy that the agreement allows us to realize our election promises: for the security and strengthening of the Negev, the Galilee and the periphery."

A US soldier oversees members of the Syrian Democratic Forces as they demolish a YPG fortification Syria. (photo: Staff Sgt. Andrew Goedl, US Army Handout via Reuter)

Two missiles were fired at US coalition forces in Syria on Friday night, according to an official statement by US Central Command (CENTCOM).

The patrol base where the rockets were fired at was in the town of al-Shaddadi in the northeastern part of the country at 10:31 p.m., the statement said.

There are no reported casualties or damage from the attack.

An Iranian cruise missile is launched during a naval exercise in the Gulf of Oman, June 18, 2020. (photo: Iranian Army via AP)

Iran has reportedly been developing large cruise missiles that could potentially "eliminate many of the obstacles" toward delivering a nuclear bomb.

Citing several US intelligence and security sources and experts, The New York Times reported Thursday that Tehran has moved closer toward achieving weapons-grade enrichment and could soon possess the technology required to deliver nuclear bombs.

While both American and Israeli intelligence officials have suggested that Tehran would require at least two years to reach sufficient levels of enrichment and build a bomb that could fit atop a missile, the report said "growing gaps in knowledge" about the pace of Iran's nuclear development could significantly change that estimation.
 

Police Commissioner Kobi Shabtai (center) and colleagues patrol in Jerusalem's Mahane Yehuda market, November 25, 2022 (Police spokeperson)

Police said Friday that bolstered forces would remain deployed in Jerusalem as the manhunt continued for a suspected terror cell that detonated explosive devices at two bus stops in Jerusalem on Wednesday, killing a teenager and wounding more than 20 others.

Police said in a statement that officers from the force, along with the Shin Bet, were looking for "anyone involved" in the terror attack.

Immediately after the deadly bombing, it was ordered that the number of officers across Jerusalem be ramped up, especially in crowded areas.
---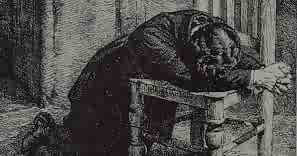 "The men who have done the most for God in this world have been early on their knees. He who fritters away the early morning, its opportunity and freshness, in other pursuits than seeking God will make poor headway seeking Him the rest of the day. If God is not first in our thoughts and efforts in the morning, He will be in the last place the remainder of the day." 
― E.M. Bounds