Top News

FILE: The Israeli-owned cargo ship MV Hyperion Ray departing Koper Port in Slovenia, October 2020. (Screenshot: YouTube)

An Israeli-owned ship reportedly came under missile fire on Tuesday near the United Arab Emirates, in the third attack of its kind in months.

There was no immediate claim of responsibility for the strike, but officials in Jerusalem believe Iran is responsible, according to Hebrew media reports. 

The Lebanese Al Mayadeen news outlet, which is affiliated with the Iran-backed Hezbollah terror group, said the ship was targeted near Fujairah on the coast of the Gulf of Oman.

Sergei Ryabkov Photo courtesy of the Russian Foreign Ministry

Moscow calls US 'an adversary' not a partner

* Warns U.S. warships to stay away from Crimea

* Moves 15 ships to Black Sea for drills

* Shrugs off U.S. warnings of consequences for actions (Adds Ryabkov quotes, details)

By Andrew Osborn and Alexander Marrow

MOSCOW, April 13 (Reuters) - Russia on Tuesday called the United States an adversary and told U.S. warships to stay well away from Crimea "for their own good", calling their deployment in the Black Sea a provocation designed to test Russian nerves.

Moscow annexed Crimea from Ukraine in 2014 and two U.S. warships are due to arrive in the Black Sea this week amid an escalation in fighting in eastern Ukraine, where government forces have battled Russian-backed separatists in a conflict Kyiv says has killed 14,000 people.

"The United States is our adversary and does everything it can to undermine Russia's position on the world stage," Deputy Foreign Minister Sergei Ryabkov was cited as saying by Russian news agencies.

Tourists will be required to take a PCR coronavirus test before boarding a plane to Israel. Upon arrival in Israel, they will have to take both a PCR test and a serological test, which proves the existence of antibodies. 

A limited number of vaccinated tourists will be allowed to enter Israel in organized groups starting May 23, the Health Ministry and Tourism Ministry said in a joint statement on Tuesday.

Ali Akbar Salehi, head of the organization, speaks with media while visiting the Natanz enrichment facility, in central Iran, November 4, 2019. (Atomic Energy Organization of Iran via AP, File)

DUBAI, United Arab Emirates — Iran will begin enriching uranium to 60 percent purity, higher than the program ever has before, after an attack on its Natanz nuclear facility, an Iranian nuclear negotiator said Tuesday.

Abbas Araghchi was quoted by the state-run IRNA news agency as saying that Iran would increase its enrichment from its current rate of 20% in response to the weekend attack on its Natanz nuclear facility, which has been blamed on Israel. That would put Iran a short technical step away from weapons-grade levels. 

 

 

FILE: Iran's nuclear enrichment facility in Natanz, 300 kilometers (186 miles) south of the capital Tehran, on April 9, 2007. (Hasan Sarbakhshian/AP)

A blast at Iran's Natanz nuclear enrichment facility that has been attributed to Israel was caused by a bomb planted at the site in advance, an Israeli television report said Monday.

According to Channel 13 news, the bomb went off Sunday at 4 a.m., when some 1,000 workers were at Natanz. The facility was reportedly evacuated immediately after the blast over fears of further bombs, but no other explosives were found.

The report, which did not cite a source, said the explosive was placed near the main electricity line at Natanz and that when it detonated, the entire facility stopped functioning. The facility remains non-functional, the report said, with the program set back by months.

Microsoft has accelerated its efforts to provide industry-specific cloud offerings to support customers and partners as they respond to disruption and new opportunities. These efforts include the Microsoft Cloud for Healthcare, introduced in 2020, which aims to address the comprehensive needs of the rapidly transforming and growing healthcare industry. Today's acquisition announcement represents the latest step in Microsoft's industry-specific cloud strategy.

Nuance is a pioneer and a leading provider of conversational AI and cloud-based ambient clinical intelligence for healthcare providers. Nuance's products include the Dragon Ambient eXperience, Dragon Medical One and PowerScribe One for radiology reporting, all leading clinical speech recognition SaaS offerings built on Microsoft Azure. Nuance's solutions work seamlessly with core healthcare systems, including longstanding relationships with Electronic Health Records (EHRs), to alleviate the burden of clinical documentation and empower providers to deliver better patient experiences. Nuance solutions are currently used by more than 55% of physicians and 75% of radiologists in the U.S., and used in 77% of U.S. hospitals. Nuance's Healthcare Cloud revenue experienced 37% year-over-year growth in Nuance's fiscal year 2020 (ended September 2020).

A doctor holding syringe for vaccination against COVID-19, in front of a South African flag. (Igor Vershinsky via iStock by Getty Images)

The South African variant of the coronavirus is notably more adept at "breaking through" the Pfizer-BioNTech vaccine than other variants are, Israeli scientists have found, in a first-of-its-kind real-world study.

Israel has used the Pfizer vaccine almost exclusively to vaccinate millions of citizens, with a version by Moderna, based on similar innovative mRNA technology, used minimally. 

A team from Tel Aviv University and the Clalit healthcare organization sequenced the swabs of 150 Israelis who tested positive for COVID-19 despite having been vaccinated. 

In their study, the prevalence of the South African strain among vaccinated individuals who were infected despite their inoculation was eight times higher than its prevalence in the unvaccinated infected population. Though the number of such infections among the vaccinated was relatively small, the findings indicated that this variant was far more successful in getting through vaccinated individuals' defenses than other strains.

This satellite photo from Planet Labs Inc. shows Iran's Natanz nuclear facility on Wednesday, April 7, 2021. Iran's Natanz nuclear site suffered a problem Sunday, April 11, involving its electrical distribution grid just hours after starting up new advanced centrifuges that more quickly enrich uranium, state TV reported. It was the latest incident to strike one of Tehran's most-secured sites amid negotiations over the tattered atomic accord with world powers. (Planet Labs Inc. via AP)

DUBAI, United Arab Emirates -- Iran's underground Natanz nuclear facility lost power Sunday just hours after starting up new advanced centrifuges capable of enriching uranium faster, the latest incident to strike the site amid negotiations over the tattered atomic accord with world powers.

As Iranian officials investigated the outage, many Israeli media outlets offered the same assessment that a cyberattack darkened Natanz and damaged a facility that is home to sensitive centrifuges. While the reports offered no sourcing for the evaluation, Israeli media maintains a close relationship with the country's military and intelligence agencies.

 

US SECRETARY OF STATE Antony Blinken testifies before the US House Committee on Foreign Affairs in Washington earlier this month. (photo credit: KEN CEDENO/REUTERS)

US Secretary of State Antony Blinken said on Sunday the United States is concerned about China's aggressive actions against Taiwan and warned it would be a "serious mistake" for anyone to try to change the status quo in the Western Pacific by force.

"What we've seen, and what is of real concern to us, is increasingly aggressive actions by the government in Beijing directed at Taiwan, raising tensions in the Straits," Blinken said in an interview with NBC's "Meet the Press."

The United States remains committed to Israel's security and will work with the IDF to ensure its qualitative military edge in the Middle East,  US Secretary of Defense Lloyd Austin said on Sunday shortly after finishing a meeting with Defense Minister Benny Gantz.

Gantz said that he told Austin Israel will work closely with America to ensure that a new nuclear deal with Iran does not threaten the State of Israel.

"The Tehran of today poses a strategic threat to international security, to the entire Middle East and to the State of Israel and we will work closely with our American allies to ensure that any new agreement with Iran will secure the vital interests of the world, of the US, prevent a dangerous arms race in our region and protect the State of Israel," Gantz said.

Ash rises into the air as La Soufriere volcano erupts on the eastern Caribbean island of St. Vincent, seen from Chateaubelair, Friday, April 9, 2021. (AP Photo/Orvil Samuel)

KINGSTOWN, St. Vincent (AP) — Ash rained down across the eastern Caribbean island of St. Vincent on Saturday and a strong sulfur smell enveloped communities a day after a powerful explosion at La Soufriere volcano uprooted the lives of thousands of people who evacuated their homes under government orders.

Lush green Caribbean villages were transformed into gloomy, gray versions of Alpine villages under a blanket of fine soot, which also hung in the air, obscuring the sun and creeping into homes, cars and noses.

Some ash fell as far away as Barbados, about 120 miles (190 kilometers) east of St. Vincent.

An Ukrainian soldier stands in position on the front line with Russia-backed separatists in Donetsk region on Feb. 19. ANATOLII STEPANOV/AFP VIA GETTY IMAGES

Russia is massing an unusual number of troops on the border with Ukraine, posing an early test for the Biden administration as it looks to repair relations with NATO allies and distinguish itself from former U.S. President Donald Trump's controversial approach to relations with Moscow.

The buildup of forces on the Ukrainian border, along with hundreds of cease-fire violations in Ukraine's eastern territories controlled by Russia-backed separatists, has alarmed NATO and sparked a flurry of phone calls between senior members of the Biden administration and their Ukrainian and Russian counterparts.

The movement of troops from western and southern military districts far exceeds what would normally be expected for a standard exercise of the sort Russia has been carrying out of late. What is both puzzling and troubling about the buildup in Voronezh is its apparent offensive posture, said Kirill Mikhailov, a researcher with the Conflict Intelligence Team. The region borders government-controlled Ukraine, not the breakaway regions in Donetsk and Luhansk, where local proxies are dependent on Russian support. 

Russian President Vladimir Putin inspects anti-submarine-warfare ship Vice-Admiral Kulakov in Novorossiysk on the Black Sea, September 23, 2014. Mikhail Klimentyev/Reuters

The US and Russia both plan to send more warships into the Black Sea, where tensions have risen in recent days.
 
The US says Russia has more troops on Ukraine's eastern border than at any time since 2014.
 
Russia has expressed concern about increasing naval activity in the Black Sea by countries without coastline there.
 

ANKARA/MOSCOW (Reuters) - The US will send two warships to the Black Sea next week, Turkey said on Friday, as Russia, which has beefed up its military forces near Ukraine, accused non-coastal NATO powers of increasing naval activity in the region.

Washington says Russia has amassed more troops on Ukraine's eastern border than at any time since 2014, when it annexed Crimea from Ukraine and backed pro-Russian separatists in the eastern Donbass region of Ukraine.

US President-elect Joe Biden and Prime Minister Benjamin Netanyahu. (photo credit: ANDREW HARNIK/YOAV DUDUKEVITCH/REUTERS)

In March 2012, unnamed US diplomats and military intelligence officials exposed IDF and Mossad activities in Azerbaijan, a Muslim country that borders Iran. "The Israelis have bought an airfield," a senior administration official was quoted as telling Foreign Policy magazine, "and the airfield is called Azerbaijan."

This Obama-administration orchestrated leak – the "outing" of Israel's covert capabilities in Azerbaijan – was meant to scuttle the possibility of an Israeli air strike on Iran's nuclear facilities from former Soviet air bases near Baku, only 500 km. from Tehran. Of course, Azerbaijan was forced to deny any Israeli presence and then scale back whatever intelligence or military basing Israel had there. 

It was an ugly and underhanded move by the Obama administration.

This was followed by the "Bibi-sitting project," a hand-holding exercise that saw senior American officials visiting Israel every month to keep tabs on the Netanyahu government's thinking and planning, and to reassure Israel that Washington was taking Israel's security interests into account.

Taglit Birthright participants visit at the Western Wall in the Old City of Jerusalem on August 18, 2014 (Flash90)

The Health Ministry is considering issuing permits for the first tourists to enter Israel in over a year, a senior health official said Friday.

The unnamed official told the Kan public broadcaster that the initial stage of the plan would probably allow organized tour groups, such as Birthright, to enter the country. 

Health officials thought that it would be easier to monitor for any possible outbreaks if the travelers were in official, authorized groups, the report said.

Then-US vice president Joe Biden, left, and Palestinian President Mahmoud Abbas, right, at the presidential compound in Ramallah, West Bank, March 9, 2016. (Debbie Hill, Pool via AP)

US President Joe Biden on Wednesday promised to press for a two-state solution to the Israeli-Palestinian conflict, as he restored aid to the Palestinians.

In a call with Jordan's King Abdullah II, a longstanding US ally who recently faced down dissent within the royal family, Biden "affirmed that the United States supports a two-state solution to the Israeli-Palestinian conflict," a White House statement said. 

Biden has long vowed to return the two-state idea to the center of US policy following the dramatic shifts under former president Donald Trump.

His talk with the king came after his clearest break yet with Trump's Mideast agenda, restoring US funding for the UN agency for Palestinian refugees that his predecessor had severed.

This is the first time that the ECHR has delivered a judgement about compulsory vaccination against childhood diseases - Sergei SUPINSKY

The European Court of Human Rights ruled on Thursday that obligatory vaccinations can be seen as necessary in democratic societies, in a landmark judgement after a complaint brought by Czech families over compulsory jabs for children.

This is the first time that the ECHR has delivered a judgement about compulsory vaccination against childhood diseases.

Experts say it could have implications for any policy of compulsory vaccinations against Covid-19.

Esmail Qaani (photo credit: Wikimedia Commons)

Brig.-Gen. Esmail Qaani, the commander of Iran's IRGC Quds Force, went to Iraq on the eve of the country holding discussions with the US this week. This is clearly a symbolic visit designed to show that Iran considers Iraq part of its "near abroad" and that the US should be wary to be playing too close to Iran's backyard. Qaani ended a two-day trip to neighboring Iraq, the Arabic-language Al-Alam news network reported today. 

Qaani has struggled to take up the banner of his predecessor Qasem Soleimani since being appointed in January 2020. Soleimani was killed in a US drone strike in Baghdad. Qaani is an expert on Afghanistan but has struggled to deal with Iraqis and other Arab groups that Iran is close to. He has been sent to Iraq before and has gone to Syria.

"Citing informed sources as saying, the Iranian news channel's correspondent said Tuesday that the IRGC Quds Force's chief had met with a number of Iraqi officials and senior figures besides leaders of political parties and movements in the Arab country," Iran's Press TV said.

(AP Photo/Andy Wong)

WASHINGTON (AP) — The American military is warning that China is probably accelerating its timetable for capturing control of Taiwan, the island democracy that has been the chief source of tension between Washington and Beijing for decades and is widely seen as the most likely trigger for a potentially catastrophic U.S.-China war.

The worry about Taiwan comes as China wields new strength from years of military buildup. It has become more aggressive with Taiwan and more assertive in sovereignty disputes in the South China Sea. Beijing also has become more confrontational with Washington; senior Chinese officials traded sharp and unusually public barbs with Secretary of State Antony Blinken in talks in Alaska last month. 

A military move against Taiwan, however, would be a test of U.S. support for the island that Beijing views as a breakaway province. For the Biden administration, it could present the choice of abandoning a friendly, democratic entity or risking what could become an all-out war over a cause that is not on the radar of most Americans.

Prime Minister Benjamin Netanyahu speaks during a Holocaust Remembrance Day ceremony held at the Yad Vashem Holocaust Memorial Museum in Jerusalem, April 7, 2021. (Olivier Fitoussi/Flash90)

Prime Minister Benjamin Netanyahu warned Wednesday that Israel will not be bound by a revitalized nuclear deal between world powers and Iran, declaring that the Jewish state is obligated only to defending itself against those who seek to destroy it.

In a speech at the Yad Vashem memorial museum during Israel's official Holocaust Remembrance Day ceremony, Netanyahu referred to negotiations in Vienna aimed at bringing the US back into the 2015 nuclear pact while getting Iran to abide by its commitments to the unraveling deal. 

"A deal with Iran that threatens us with annihilation will not obligate us," Netanyahu declared.

Iranian-flagged container ship Shahr e Kord is pictured at Haydarpasa port in Istanbul, Turkey December 13, 2019 (photo credit: REUTERS/YORUK ISIK)

Israel notified the US that it is responsible for the Tuesday attack on an Iranian cargo ship affiliated with the Iranian Revolutionary Guards Corps, an American official told The New York Times.

A spokesman for the Iranian Foreign Ministry confirmed on Wednesday that the Saviz was lightly damaged in the Red Sea off the coast of Djibouti at about 6 a.m. on Tuesday due to an explosion, adding that the cause of the explosion is under investigation. 

"The Saviz civilian ship was stationed in the Red Sea region and the Gulf of Aden to establish maritime security along the shipping lanes and to counter piracy," said the spokesman. "This ship practically acted as a logistics station (technical support and logistics) of Iran in the Red Sea, and therefore the specifications and mission of this ship had previously been officially announced."

Reuven Rivlin announces his decision to name Benjamin Netanyahu to try to form a government on April 6, 2021. (Koby Gideon/GPO)

President Reuven Rivlin on Monday gave Prime Minister Benjamin Netanyahu the first crack at forming a government but noted that he was doing so reluctantly, both because no party leader appeared to have enough support to succeed at cobbling together a ruling coalition and because he had "moral and ethical" reservations given that Netanyahu is on trial for corruption.

In announcing his choice, Rivlin spoke of his moral dilemma in light of Netanyahu's ongoing corruption trial and the public discourse surrounding it, expressing his fears for the future of the country amid the divides that have resulted in four inconclusive elections in succession.
---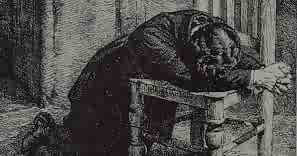 "The men who have done the most for God in this world have been early on their knees. He who fritters away the early morning, its opportunity and freshness, in other pursuits than seeking God will make poor headway seeking Him the rest of the day. If God is not first in our thoughts and efforts in the morning, He will be in the last place the remainder of the day." 
― E.M. Bounds