Top News

Embassy of China in Tel Aviv. Credit: Wikimedia Commons.

(January 24, 2022 / JNS) China became Israel's largest source of imports in 2021 with $10.7 billion, overcoming the previous top spot held by the United States, revealed Israel's National Bureau of Statistics on Thursday.

In 2020, imports from the United States had totaled a little more than $8 billion, while China's imports totaled nearly $7.7 billion.

Imports from the United States in 2021 were nearly $8.3 billion.

Following the United States was Switzerland with nearly $6.6 billion and Germany following close behind.

Rep. Ralph Norman, a Republican from South Carolina, speaks during a news conference outside the U.S. Capitol in Washington, D.C., on Thursday, July 1, 2021. (Samuel Corum/Bloomberg)

FIRST ON FOX: Rep. Ralph Norman, R-S.C., introduced a bill Tuesday that would prevent the federal government from tracking information on individuals who receive a religious exemption to the coronavirus vaccine.

The bill comes after the Pretrial Services Agency (PSA) for the District of Columbia – a federal entity – announced a system recording "personal religious information" of employees with "religious accommodation requests for religious exception from the federally mandated vaccination requirement."

In a statement to Fox News Digital, Norman said: "The ability for individuals to openly practice their faith without fear of retribution is a precious right we must guard closely."

Illustrative: A Ukrainian Military Forces serviceman watches through spyglass in a dugout on the frontline with Russia-backed separatists near Gorlivka, Donetsk region on January 23, 2022. (Anatolii STEPANOV / AFP)

WASHINGTON (AP) — The Pentagon ordered 8,500 troops on higher alert Monday to potentially deploy to Europe as part of a NATO "response force" amid growing concern that Russia could soon make a military move on Ukraine. President Joe Biden consulted with key European leaders, underscoring US solidarity with allies there.

Putting the US-based troops on heightened alert for Europe suggested diminishing hope that Russian President Vladimir Putin will back away from what Biden himself has said looks like a threat to invade neighboring Ukraine.

At stake, beyond the future of Ukraine, is the credibility of a NATO alliance that is central to US defense strategy but that Putin views as a Cold War relic and a threat to Russian security. For Biden, the crisis represents a major test of his ability to forge a united allied stance against Putin.

Sukhoi Su-35 jet fighters of the Russian Knights aerobatic team perform during International military-technical forum "Army-2020" at Kubinka airbase in Moscow Region August 25, 2020 (photo credit: REUTERS/MAXIM SHEMETOV)

Syrian and Russian military jets patrolled together on Monday near Syria's border with Israel. The report comes as tensions in Ukraine are at a boiling point, with Western powers accusing Russia of plotting an invasion. The Russian joint patrols with Syria could become a regular event, Russia has indicated. The reports have come from Russia's defense ministry and Interfax news agency. This has ramifications for Israel and could impact Israel's operations targeting Iranian weapons transfers to Hezbollah.  

Israel has conducted a "campaign between the wars" which is used to prevent Iran from entrenching in Syria and moving weapons to Hezbollah. The Israel Defense Forces claim this is the term for the "IDF's prevention and influence approach for force employment short of war."

Turkey is undergoing massive power cuts to industrial customers this week at an unprecedented level never seen before after the country's natural gas supplies dipped following a disruption of imports from Iran. Major industrial zones and clusters and major production sites, including those of foreign car manufacturers, are being hit by power outages after Iran said at the end of last week it would halt natural gas exports to Turkey for ten days, due to technical issues.

On Friday, Iran announced that gas flows were restored, but Turkey said supplies were very low and at low pressure.

"The system is being disrupted due to the low amount and pressure. The compressor stations on the Turkey side are ready, operational, and there are no technical issues on the Turkish side," a Turkish official told Reuters on Friday.

Fox News photo

The "Defeat the Mandates" march took to the streets and monuments of Washington, D.C., as protestors and speakers called for an end to COVID-19 vaccine mandates nationwide. 

A number of major U.S. cities including D.C., New York City, Los Angeles, Chicago, Minneapolis, and Boston have implemented citywide rules requiring residents to show proof of vaccination at certain establishments, such as restaurants and gyms.

Chinese military planes. (file photo: Getty Images)

China launched 39 aircraft, mostly fighter jets, near Taiwan Sunday — the largest show of force in months.

The launch came the same day the U.S. Navy sailed two aircraft carriers along with a pair of amphibious assault ships alongside allies in the Philippine Sea.

It's not clear what might have prompted the escalation, but China did something similar in early October during similar U.S. Navy operations.

Biden met with his national security team today to discuss the situation with the Ukraine and Russia. (photo: White House Twitter)

President Biden met with his national security team Saturday amid reports that Russia was planning to install a pro-Kremlin leader in Ukraine.

One U.S. official told Fox News the reports were "deeply concerning."

Late Saturday, the White House posted a photo on social media, showing Biden and advisers at Camp David, Maryland, where they gathered to discuss "continued Russian aggressive actions toward Ukraine."

Former Vice President Mike Pence delivers remarks to a small crowd Jan. 20, 2021, at Columbus Municipal Airport in Columbus, Ind. (photo: Fox News)

Former Vice President Mike Pence Saturday expressed confidence the Supreme Court will overturn Roe. v. Wade — thanks to the newest conservative justices — and urged anti-abortion activists to prepare for action once the decision comes down. 

Pence predicted the Supreme Court will act to dismantle the landmark abortion case, adding the "next battlefield for life will emerge" in the state legislatures. 

"Your generation must lead and fight for life in every state across this land," Pence said Saturday at the National Pro-life Summit in Washington, D.C., where many students and grassroots activists had gathered.

The first shipment of assistance recently directed by President Biden to Ukraine arrived in Ukraine tonight. This shipment includes close to 200,000 pounds of lethal aid, including ammunition for the front line defenders of Ukraine. (photo: Courtesy U.S. Embassy Kyiv Twitter)

The U.S. delivered its first shipments of promised assistance to Ukraine Friday night, including "lethal" aid, as part of ongoing efforts to deter Russian invasion. 

The shipment includes around 200,000 pounds of ammunition and weapons for frontline defenders. The U.S. Embassy in Kyiv hailed the shipment – delivered by airplane – as part of $2.7 billion of investments made in Ukraine. 

The embassy also said the shipment "demonstrates the U.S. commitment to helping Ukraine bolster its defenses in the face of growing Russian aggression."

The US embassy in Ukraine has requested the evacuation of all non-essential staff amid increasing fears of an imminent Russian invasion and the arrival overnight of arms deliveries promised by President Joe Biden, according to a CNN report.

US evacuations are likely to start "as early as next week", the US cable news network said, citing a source close to the Ukrainian government. It marks the embassy's shift in focus towards "helping Ukraine bolster its defences in the face of growing Russian aggression".

A Russian tank fires as troops take part in drills at the Kadamovskiy firing range in the Rostov region in southern Russia, Jan. 12, 2022. (photo: AP)

Russian-backed separatists in east Ukraine would expect Russia's army to fight with them against Ukrainian government forces if Moscow follows through on a parliamentary proposal to recognize their independence, a pro-Kremlin lawmaker said on Thursday.

Alexander Borodai made the comment after 11 lawmakers proposed that parliament ask President Vladimir Putin to recognize the independence of the breakaway Donetsk and Luhansk regions.

Such a move would mark a major escalation by Russia after weeks of mounting tensions around Ukraine. A Russian military buildup and threatening rhetoric have stoked Western fears of a looming invasion, though Moscow denies any such plan.

"In the event of [the republics] being recognized, a war will become a direct necessity," Borodai said.

In this photo provided Jan. 21, 2022, by the Iranian Army, an Iranian army member fires a weapon during a joint naval drill of Iran, Russia and China in the Indian Ocean. (photo: Iranian Army via AP)

Iran's state TV said 11 of its vessels were joined by three Russian ships including a destroyer, and two Chinese vessels. Iran's Revolutionary Guard will also participate with smaller ships and helicopters.

The report said the maneuvers would cover some 17,000 square kilometers, or 10,600 miles, in the Indian Ocean's north, and include night fighting, rescue operations and firefighting drills.

This is the third joint naval drill between the countries since 2019. It coincided with a recent visit by Iranian President Ebrahim Raisi to Russia that ended on Thursday.

US Secretary of State Antony Blinken (left) and Russian Foreign Minister Sergey Lavrov move to their seats before their meeting, on Friday, January 21, 2022, in Geneva, Switzerland. (photo: Alex Brandon, AP / Pool)

The United States and Russia sought to lower the temperature in a heated standoff over Ukraine, even as they reported no breakthroughs in high-level, high-stakes talks on Friday aimed at preventing a feared Russian invasion.

Armed with seemingly intractable and diametrically opposed demands, US Secretary of State Antony Blinken and Russian Foreign Minister Sergey Lavrov met in Geneva for roughly 90 minutes at what the American said was a "critical moment."

But there was no apparent movement on either side, and Blinken said the US and its allies remain resolute in rejecting Russia's most important demands.

Boeing 707 and F-15 demonstrate mid-air refueling, December 1, 2014. (file photo: Ofer Zidon, Flash90)

Israeli fighter jets carried out a large drill over the Mediterranean that included practicing mid-air refueling, according to a report in a Saudi-run news outlet Thursday.

The unverified report in London-based Elaph described air maneuvers on Thursday by "an unusually large" contingent of F-15, F-16 and F-35 fighter craft, as well as Boeing mid-air refueling tankers, in what would likely be seen as a warning beacon to Iran amid Israeli threats to take military action in order to stop Tehran's nuclear program.

Citing an unnamed Arab source, Elaph reported that the "wide" maneuver took place over the Mediterranean. Israeli defense officials, who rarely comment on foreign reports, could not be immediately reached.

Israel's Ambassador to the UN Gilad Erdan holds an enlarged copy of the resolution passed on January 20, 2022 to combat Holocaust denial, flanked by Holocaust survivors at the General Assembly. (photo: Israel's Mission to the UN)

The United Nations General Assembly adopted a resolution aimed at combatting Holocaust denial on Thursday, in what was just the second time since Israel's establishment that a measure its delegation brought before the forum managed to pass.

The resolution provides a specific classification for Holocaust denial, using the working definition put together by the International Holocaust Remembrance Alliance. It also provides actions expected to be taken by signatory countries in order to address the phenomenon, and demands social media networks remove posts that fall under the IHRA definition.

An oil platform in Israel's offshore Leviathan gas field is seen as a submarine patrols the Mediterranean Sea on Sept. 1, 2021. (photo: Ariel Schalit, AP)

Israel signed a €3 billion (U.S. $3.4 billion) deal Thursday to buy three cutting-edge submarines from Germany, the Israeli Defense Ministry announced.

The Dakar-class diesel-electric submarines will be produced by German manufacturer ThyssenKrupp and are expected to be delivered within nine years, the ministry said.

Israeli Defense Minister Benny Gantz said the procurement "will upgrade the capabilities of the Israeli Navy, and will contribute to Israel's security superiority in the region." Part of the cost of the ships will be covered by the German government, the ministry said.

US Secretary of State Antony Blinken begins his first press briefing. (photo: Carlos Barria, Reuters)

The United States and its European allies said on Thursday that it was now just a matter of weeks to salvage the 2015 nuclear deal after a round of talks in which a French diplomatic source said there had been no progress on the core issues.

Indirect talks between Iran and the United States on reviving the nuclear deal resumed almost two months ago.

"We are indeed at a decisive moment," US Secretary of State Antony Blinken said on Thursday after meeting French, German and British ministers in Berlin. "We are not where we need to be there and if we don't get there very soon, we will have to take a different course," he added.

Ukrainian President Volodymyr Zelenskiy. (photo: Official Government Portrait / Wikipedia)

Western countries sought to project unity over Ukraine on Thursday, after U.S. President Joe Biden suggested allies were split over how to react to any "minor incursion" from Russia, prompting Kyiv's leader to plead that there was no such thing.

"We want to remind the great powers that there are no minor incursions and small nations. Just as there are no minor casualties and little grief from the loss of loved ones," Ukrainian President Volodymyr Zelenskiy tweeted in English and Ukrainian, in a clear reference to Biden's remarks.

Russia has massed tens of thousands of troops on its borders with Ukraine, and Western states fear Moscow is planning a new assault on a country it invaded in 2014. Russia denies it is planning an attack, but says it could take unspecified military action if a list of demands are not met, including a promise from NATO never to admit Kyiv as a member.

A convoy of Russian armored vehicles moves along a highway in Crimea, Tuesday, Jan. 18, 2022. Russia has concentrated an estimated 100,000 troops with tanks and other heavy weapons near Ukraine in what the West fears could be a prelude to an invasion. (AP Photo)

MOSCOW (AP) — Russia is a sending an unspecified number of troops from the country's far east to Belarus for major war games, officials said Tuesday, a deployment that will further beef up Russian military presence near Ukraine amid Western fears of a planned invasion.

Amid the soaring tensions, the White House warned that Russia could attack its neighbor at "any point," while the U.K. delivered a batch of anti-tank weapons to Ukraine.

Russia's Deputy Defense Minister Alexander Fomin said the joint drills with Belarus would involve practicing a joint response to external threats. 

Ukrainian officials have warned that Russia could launch an attack on Ukraine from several directions, including from its ally Belarus.
---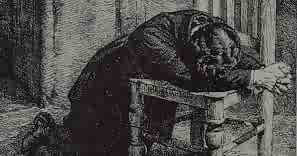 "The men who have done the most for God in this world have been early on their knees. He who fritters away the early morning, its opportunity and freshness, in other pursuits than seeking God will make poor headway seeking Him the rest of the day. If God is not first in our thoughts and efforts in the morning, He will be in the last place the remainder of the day." 
― E.M. Bounds