Top News

Secretary of the Commonwealth of Pennsylvania Kathy Boockvar (Julio Cortez/AP Photo)

A Pennsylvania judge issued an order temporarily preventing the state from taking any further actions to certify the election results.

The ruling stops action until after a hearing Friday, "to the extent that there remains any further action to perfect the certification of the results of the 2020 General Election." Secretary of the Commonwealth Kathy Boockvar certified Biden's 80,555-vote victory in Pennsylvania, which was announced in a tweet by Democrat Governor Tom Wolf yesterday.

Pennsylvania Attorney General Josh Shapiro's office didn't immediately have a comment when reached by phone.

 

Defense Minister Benny Gantz attends a cabinet meeting. Photo: Abir Sultan/POOL/AFP via Getty

The Israel Defense Forces have in recent weeks been instructed to prepare for the possibility that the U.S. will conduct a military strike against Iran before President Trump leaves office, senior Israeli officials tell me.

Why it matters: The Israeli government instructed the IDF to undertake the preparations not because of any intelligence or assessment that Trump will order such a strike, but because senior Israeli officials anticipate "a very sensitive period" ahead of Biden's inauguration on Jan. 20.

The IDF's preparedness measures relate to possible Iranian retaliation against Israel directly or through Iranian proxies in Syria, Gaza and Lebanon, the Israeli officials said.

Airline employees at Arturo Merino Benitez International Airport in Santiago on Monday, after Chile resumed international flights. Photo: Martin Bernetti/AFP via Getty Images

Qantas Airways Ltd. plans to require future international passengers to have a Covid-19 vaccination before they fly, and said it's likely to become a requirement at airlines across the world.

A vaccination will be a "necessity" for travelers entering and leaving Australia on a Qantas flight, Chief Executive Officer Alan Joyce said in an interview with Channel 9 in Australia.

"We are looking at changing our terms and conditions to say, for international travelers, we will ask people to have a vaccination before they can get on the aircraft," Joyce said in the interview.

Xie Huanchi/Xinhua via AP

Chinese Communist President Xi Jinping wants travelers to adopt a global QR code system to help determine their health status and travel "permissions" in a post-coronavirus pandemic travel reset.

During the virtual G20 summit on Saturday, Xi called for a coronavirus "global mechanism" which involves international recognition of health certificates in the form of QR codes to allow people to travel freely, according to state media.

US Secretary of State Mike Pompeo, right, listens to Saudi Minister of Foreign Affairs Prince Faisal bin Farhan Al Saud during their meeting at the State Department, October 14, 2020, in Washington, DC. (Manuel Balce CENATA / POOL / AFP)

Saudi Arabia's foreign minister on Monday denied widespread reports that Riyadh's Crown Prince Mohammed bin Salman and Prime Minister Benjamin Netanyahu held talks Sunday along with US Secretary of State Mike Pompeo on Iran and normalization, claiming that no Israeli officials had been there.

A Saudi government adviser earlier confirmed the meeting and the trip by the Israeli leader to Saudi Arabia on Sunday night to The Wall Street Journal, saying that the meeting, which had lasted several hours, focused on Iran and the establishment of diplomatic ties between Riyadh and Jerusalem, but did not yield substantial agreements.

A U.S. B52 plane (R) flies during Exercise Eager Lion at one of the Jordanian military bases in Zarqa, east of Amman, Jordan, May 24, 2016. (photo credit: MUHAMMAD HAMED / REUTERS)

American B-52s, the massive strategic bombers, arrived in the Middle East on Saturday. They are part of the Fifth Bomb Wing at Minot AFB in North Dakota.

These veteran, giant aircraft were last deployed in the region in May 2019 and the US Central Command says they are here to "deter aggression and reassure US partners and allies."

The B-52s have been sent to the region as the US appears to be drawing down forces in Iraq. The Pentagon has said hundreds of troops are leaving Iraq and Afghanistan.

Illustrative: This photo released by the Syrian official news agency SANA, shows the rubble of a house that according to the Syrian authorities was attacked by an Israeli airstrike, in the Damascus suburbs of Hajira, Syria, Monday, April 27, 2020. (SANA via AP)

Iran said on Sunday that it would bring an end to what it called Israel's practice of "hit and run" strikes in Syria as an unconfirmed report said that at least 14 pro-Iran fighters from Iraq and Afghanistan were killed in overnight airstrikes in eastern Syria.

Tehran made the threat following a major Israeli assault last week in response to what Jerusalem said was a failed Iranian explosives attack on the Golan Heights.

Iranian Foreign Ministry spokesman Saeed Khatibzadeh told a press conference that "the Zionist regime is well aware that the era of hit and run is over and therefore they are very cautious."

The results of the UN General Assembly's Second Committee vote on Palestinian sovereignty in East Jerusalem and the West Bank (photo credit: screenshot)

The UN General Assembly's Second Committee pushed back at the concept of de-facto Israeli annexation on Wednesday night, approving a draft resolution by 156-6 member states that called on nations to ensure that they do not treat the West Bank settlements and east Jerusalem as a part of sovereign Israel.

The six countries that opposed the resolution were Canada, Israel, the Marshall Islands, Micronesia, Nauru and the United States.

Israel formally annexed east Jerusalem in 1980, a move that has never been recognized by the US or the international community. It has, however, never annexed the West Bank settlements.

Rep. Seth Grove - The York Dispatch

HARRISBURG, Pa. - Pennsylvania Representative Seth Grove did not mince words in Harrisburg Friday after a roundtable discussion with Dominion Voting Systems was canceled overnight. Dominion says it is under litigation and can not answer questions at this time. 

"Today I am saddened to report to the taxpayers of Pennsylvania and the 1.3 million voters who used Dominion voting that Dominion has hung you out to dry and slapped you in your faces," Grove said.

Dominion Voting Systems first came under fire shortly after the election. President Trump's attorney Rudy Giuliani has attempted to say the software Dominion uses has ties to Venezuela, and there were glitches in the software that might have switched votes.

The Temple Mount in Jerusalem (photo credit: RONEN ZVULUN / REUTERS)

Jerusalem is listed as a separate entity from Israel in the UK's updated list of countries to which citizens may travel without a quarantine requirement upon return.

Conservative Friends of Israel expressed outrage at the listing.

"The announcement of a travel corridor with Israel is excellent news," the CFI said. "However, the [Foreign Office's] decision to define Jerusalem as a territory separate from Israel is offensive and hostile."

Pompeo wine by Psagot Winery - Hezki Baruch

US State Department statement:

Today, the Department of State  is  initiating  new guidelines to  ensure  that country of  origin marking  for Israeli and Palestnian  goods  are  consistent with our  reality-based foreign policy approach.

  In accordance with this  announcement,  all producers within  areas where Israel exercises the relevant authorities – most notably  Area C  under the Oslo Accords - will be required to  mark  goods as  "Israel",  "Product of Israel", or "Made in Israel"  when exporting to the United States.  This  approach recognizes that Area C producers operate within the economic and administrative framework of Israel and their goods should be treated accordingly. This update will  also  eliminate confusion by recognizing that  producers in other parts of the West Bank  are  for all practical purposes administratively separate  and that their goods should be  marked  accordingly.

Goods in areas of the West Bank where the Palestinian Authority maintains relevant authorities shall be marked as products of  "West Bank" and goods produced in Gaza will be marked as products of  "Gaza."  Under the new approach, we will no longer accept  "West Bank/Gaza" or similar markings, in recognition that Gaza and the West Bank are  politically and administratively separate and should be treated  accordingly.

We  remain committed to an enduring and sustainable peace as outlined in President Trump's Vision for Peace.   We will continue to oppose those countries and international institution s which delegitimize or penalize Israel and Israeli producers in the West Bank through malicious measures  that fail to recognize the reality on the ground

(photo credit: KOBI GIDON / GPO)

The US will allow goods produced in Israeli towns in Judea and Samaria to be labeled products of Israel as opposed to the West Bank, US Secretary of State Mike Pompeo announced on Thursday, during the first-ever visit by someone in his position to an Israeli entity in the West Bank.

The new guidelines "ensure that country of origin markings for Israeli and Palestinian good are consistent with our reality-based foreign policy approach," Pompeo said.

He added: "This approach recognizes that Area C producers operate within the economic and administrative framework of Israel and their goods should be treated accordingly.  This update will  also  eliminate confusion by recognizing that  producers in other parts of the West Bank  ar e for all practical purposes administratively separate  and that their goods should be  marked  accordingly."

Pompeo reversed 25 years of policy requiring such products to be labeled as made in the West Bank. The Clinton administration required goods from settlements to be labeled as coming from the West Bank following the Oslo Accords. Those rules were not enforced, but in 2016, the Obama administration warned that labeling settlement goods as products of Israel could carry a fine.
---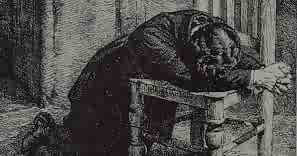 "The men who have done the most for God in this world have been early on their knees. He who fritters away the early morning, its opportunity and freshness, in other pursuits than seeking God will make poor headway seeking Him the rest of the day. If God is not first in our thoughts and efforts in the morning, He will be in the last place the remainder of the day." 
― E.M. Bounds