Top News

A police officer from the NYPD Highway Patrol oversees a flooded street on Friday. (photo: CNN)

Record-setting rain overwhelmed New York City's sewer system Friday, sending a surge of floodwater coursing through streets and into basements, schools, subways and vehicles throughout the nation's most populous city.

The water rose fast and furious, catching some commuters off guard as they slogged through Friday morning's rush hour. First responders jumped into action where needed, plucking people from stranded cars and basements filling like bathtubs.

More rain fell in a single day at New York's John F. Kennedy International Airport – nearly 8 inches – than any other since 1948. A month's worth of rain fell in Brooklyn in just three hours as it was socked by some of the storm's most intense rainfall rates Friday morning.

Residents watch as workers attempt to clear a drain in flood waters, September 29, 2023, in the Brooklyn borough of New York. (photo: Jake Offenhartz, AP)

Mark Vogel, who lives in the Bronx borough of New York City and runs a website about Jewish and kosher travel, spoke for many of his neighbors when he posted a video on Instagram of his sukkah being pounded by rain, standing forlornly in the middle of his flooded backyard.

"I built a Sukkah," he wrote in a caption. "I should have built an ark."

Vogel, and many of the other millions of Jews in the tri-state area, have been coping with the reality that Sukkot, the most outdoor holiday on the Jewish calendar, has coincided with heavy rains that have flooded highways, shut down subway lines and triggered a state of emergency in and around New York City. More than 8 inches of rain had fallen at John F. Kennedy airport by Friday afternoon, and more is expected into Saturday.

US President Joe Biden meets with Prime Minister Benjamin Netanyahu in New York, September 20, 2023. (photo: Susan Walsh, AP)

Biden told Netanyahu that he wants agreement to include measures that maintain prospects for two-state solution; Netanyahu kept his affirmative response vague.

Prime Minister Benjamin Netanyahu reportedly told US President Joe Biden during their meeting last week that he is prepared to take steps that would keep the possibility of an Israeli-Palestinian peace agreement alive as part of the normalization agreement that Washington is trying to broker between Israel and Saudi Arabia.

Netanyahu has said publicly since the New York meeting that the Palestinians should be part of the US-Israel-Saudi agreement — but that they should not have a veto over it. A willingness to extend that Palestinian element to steps relating to a future peace deal between Israel and the Palestinians — as vague as that might be — is not something he has acknowledged publicly.

According to a Thursday report on the Walla news site, Netanyahu's aides met with senior White House officials Brett McGurk and Amos Hochstein the night before the prime minister's meeting with Biden on the sidelines of the UN General Assembly. During that preparatory meeting, the US officials asked their Israeli counterparts what concessions to the Palestinians Netanyahu would be prepared to offer Biden during their sit-down.

US President Joe Biden and Saudi Crown Prince Mohammed bin Salman attend the Gulf Cooperation Council +3 meeting in Jeddah, last summer. (photo: Mandel Ngan, Reuters)

Saudi Arabia will not hold up a peace deal even if Israel does not offer major concessions to Palestinians in their bid for statehood, three regional sources familiar with the talks said.

The Palestinians could get some Israeli restrictions eased but such moves would fall short of their aspirations for a state. As with other Arab-Israeli deals forged over the decades, the Palestinian core demand for statehood would take a back seat, the three regional sources familiar with the talks said.

"The normalization will be between Israel and Saudi Arabia. If the Palestinians oppose it the kingdom will continue in its path," said one of the regional sources. "Saudi Arabia supports a peace plan for the Palestinians, but this time it wanted something for Saudi Arabia, not just for the Palestinians."

The Metropolitan Transit Authority (MTA) suspended train services at many stations, and there were extensive delays where New York City subway trains were still running on Friday morning.

"There is only extremely limited subway service available because of heavy flooding caused by rainfall. Service may be suspended on certain stations," MTA said on its website.

The latest storm, although non-tropical in nature, is another thorn in the side for coastal locations still reeling from the effects of Ophelia. Well after its demise, the former tropical storm brought days of cloudy, cool, wet and windy weather to portions of the Northeast earlier this week and contributed to a prolonged period of pounding surf, coastal flooding and erosion.

Saudi Arabia is determined to secure a military pact requiring the United States to defend the kingdom in return for opening ties with Israel and will not hold up a deal even if Israel does not offer major concessions to Palestinians in their bid for statehood, three regional sources familiar with the talks said.

A Jewish settler walks past Israeli settlement construction sites around Givat Zeev and Ramat Givat Zeev in the West Bank, near Jerusalem June 30, 2020. (photo: Ammar Awad, Reuters)

The US has raised its concern "at the highest level" about Israel's continued settlement activity, its UN envoy told the Security Council as she pledged her country's commitment to a two-state solution and the normalization of Israeli ties in the region.

"Make no mistake: the expansion of settlements undermines the geographic viability of a two-state solution, exacerbates tensions, and further harms trust between the two parties," Linda Thomas-Greenfield said.

She spoke in the aftermath of a dramatic spike of 303% in housing starts from the first and second quarters of 2023, according to data from the Central Bureau of Statistics published this month.

Linda Thomas-Greenfield, U.S. Ambassador to the United Nations, at the U.N. Security Council Open Debate on Multilateralism on May 7, 2021. (photo: Freddie Everett, U.S. State Department)

Linda Thomas-Greenfield, the U.S. ambassador to the United Nations, had harsh words for both Israelis and Palestinians at the U.N. Security Council's monthly meeting on the Israeli-Palestinian file on Wednesday.

The U.S. envoy criticized Jewish residents of Judea and Samaria regarding the "sharp rise" in violence against local Arabs, which she said was deeply alarming. She added that those who commit violent acts against civilians, whether Israeli or Palestinian, must be held accountable.

he also blasted Palestinian Authority leader Mahmoud Abbas over his recent Holocaust denial, which included blaming Jews for the Shoah. 

The comments were "blatantly antisemitic" and "wrongly maligned the Jewish people and distorted the Holocaust," said Thomas-Greenfield. "These kinds of divisive and hateful remarks only undermine prospects for peace between Israelis and Palestinians."

An Arrow-3 missile interceptor. (photo: Israeli Ministry of Defense Spokesperson's Office)

Israeli Defense Minister Yoav Gallant on Thursday in Berlin signed an agreement to provide Israel's Arrow 3 missile defense system to Germany. At an estimated value of $3.5 billion, the deal is the largest of its kind in Israel's history.

The first missile battery, including radar, launch and interception management systems, is to be supplied to the Germans by Israel Aerospace Industries (IAI) by the fourth quarter of 2025.

Germany is the first foreign purchaser of the system.

Arrow 3 is the upper-tier layer of Israel's missile defense program, designed to intercept ballistic missiles during the exoatmospheric portion of their trajectory, at altitudes above 100 kilometers (62 miles).

This handout picture provided by the Palestinian Authority's press office (PPO) shows PA President Mahmoud Abbas (R) receiving the credentials of Saudi Arabia's Ambassador to Palestine Nayef al-Sudairi, at the former's office in the West Bank city of Ramallah, on September 26, 2023. (photo: Thaer Ghanaim, PPO / AFP)

Newly appointed Saudi ambassador to the Palestinians Nayef al-Sudairi arrived in Ramallah Tuesday to present his credentials to the Palestinian Authority, saying that Riyadh was "working to establish a Palestinian state with East Jerusalem as its capital."

His arrival, which marks the first time Saudi Arabia has sent a delegation to the West Bank in three decades, comes as the kingdom edges closer to a normalization deal with Israel.

Al-Sudairi presented his credentials to PA President Mahmoud Abbas and to Foreign Minister Riyad al-Maliki, who praised the depth of the deep-rooted historical and fraternal relations that bind the two people, according to the PA's official Wafa news agency.

Tourism Minister Haim Katz was welcomed to Riyadh in comments by his Saudi counterpart on Wednesday, while he held an unprecedented trip to the Gulf nation as rapprochement between the countries appears closer than ever.

Shahad-136 explosive drones that were prepared for launch as part of an exercise that took place in Iran in December 2021. (photo: Israeli president Isaac Herzog Spokesperson office)

The United States has announced new sanctions targeting individuals in China and Iran, as well as entities in Turkey, the United Arab Emirates, and Hong Kong. 

The sanctions were unveiled on Wednesday and were documented on the Treasury Department's website.

One of the primary targets of these sanctions is a network allegedly aiding in the procurement of sensitive components for Iran's drone program. 

The U.S. government has accused that network of facilitating shipments and financial transactions that support Iran's Islamic Revolutionary Guards Corps (IRGC) in obtaining crucial components for its Shahed-136 drones.

Paraguayan President Santiago Peña greets Israeli Prime Minister Benjamin Netanyahu at the U.N. General Assembly in New York on Sept. 19, 2023. (photo: Avi Ohayon, GPO)

Paraguay is set to open the doors of its new Jerusalem embassy in November, in a sign of growing support for Israel in Latin America, Paraguayan officials said on Wednesday.

The move comes as an increasing number of countries have recently voiced their intention to relocate their diplomatic missions to Israel's capital based on faith-based diplomacy.

Saudi ambassador Nayef al-Sudairi gestures as he visits Ramallah in the West Bank September 26, 2023. (photo: Mohammed Torokman, Reuters)

Saudi Arabia's first ambassador to the Palestinian Authority, Nayef al-Sudairi, arrived in Ramallah on Tuesday morning, implying in a statement to reporters that the establishment of a Palestinian state with its capital in east Jerusalem would be a central pillar of any future deal with Israel.

Sudairi announced as well that the Kingdom intends to open a consulate in east Jerusalem. Such a move would seemingly require the approval of Israeli authorities.

In response to a question about the fate of the two-state solution if Saudi Arabia and Israel normalized relations, the ambassador told reporters on Tuesday that "the Arab Peace Initiative is the central point of any upcoming agreement," according to the Palestinian Authority's WAFA news agency.

Tourism Minister Haim Katz poses next to a UNWTO poster in Riyadh, Saudi Arabia on September 26, 2023. (photo: Haim Kaitz)

Tourism Minister Haim Katz arrived Tuesday in Saudi Arabia for a United Nations conference, becoming the first Israeli minister to lead a delegation to the kingdom, according to his office.

Katz is on a two-day visit to Saudi Arabia as part of a United Nations World Tourism Organization (UNWTO) event that coincides with World Tourism Day on September 27.

"Tourism is a bridge between nations," Katz said in a statement. "Cooperation in the field of tourism has the potential to bring hearts together, and economic progress."

Karine Jean-Pierre, the White House press secretary, speaks during a Sept. 22, 2023 press briefing. (photo: White House YouTube)

In his remarks at the United Nations General Assembly, Israeli Prime Minister Benjamin Netanyahu predicted normalization between the Jewish State and Saudi Arabia and said that although such a peace would benefit the Palestinians too, the latter should not have a veto.

Karine Jean-Pierre, the White House press secretary, was asked about those remarks during a press briefing on Friday. She appeared to disagree with Netanyahu.

"Look, a normalization agreement between Israel and Saudi Arabia will include a serious component dealing with the fundamental issue between Israeli and Palestinian.  This is to your question," she said. 

"But I certainly don't want to get ahead of a process," she added. "There's a lot of legwork to be done. And don't have a formal framework. And so, we're going to work through it."

Saudi Ambassador Nayef Al-Sudairi (L) presents his credentials to Palestinian Authority diplomatic adviser Majdi al-Khalidi at the Palestinian embassy in Jordan on August 12, 2023. (photo: Wafa)

A senior Saudi delegation will visit the West Bank this week for a meeting with Palestinian Authority leader Mahmoud Abbas as the kingdom edges closer to a normalization deal with Israel, the Reuters news agency reported Sunday.

The delegation will be led by Saudi ambassador to Jordan Nayef al-Sudairi, who was appointed last month as Riyadh's first-ever non-resident ambassador to Palestine and its first-ever non-resident consul general to Jerusalem, the report said.

A senior Palestinian official Hussein al-Sheikh confirmed that al-Sudairi would be visiting Ramallah.

Palestinians clash with Israeli forces near the border between Israel-Gaza. (Atia Mohammed, Flash90)

The Israeli military on Monday struck a post belonging to the Hamas terrorist organization in retaliation against incendiary balloons, border riots and other aggressions during the Yom Kippur holiday. 

Additionally, Israel Defense Forces (IDF) soldiers responded with live fire toward an assailant who fired shots at the soldiers and hit him. The Hamas-controlled health ministry in Gaza reported that two rioters were wounded by "Israeli bullets" in Monday's clashes.

Furthermore, earlier Monday IDF soldiers identified two suspects that attempted to cross the security area from the southern Gaza Strip into Israeli territory. IDF soldiers apprehended the suspects and they were transferred to security forces for further questioning.

Israeli Prime Minister Benjamin Netanyahu addresses the United Nations General Assembly on Sept. 22, 2023. (photo: United Nations)

Israeli Prime Minister Benjamin Netanyahu departed for Israel from New York's John F. Kennedy Airport early on Sunday morning, wrapping up a six-day trip to the United States that included meetings with heads of state and an address to the United Nations General Assembly.

"I think this visit brought many achievements, and with your help, and thanks to you, we were able to do lots of good things for the State of Israel," the premier told fellow members of the Israeli delegation shortly before takeoff, noting he had met with some 20 leaders from five different continents during the visit.

"I also want to thank many of you for the congratulations [that I received] on the U.N. speech, which, to my joy, was not only broadcast live on U.S. television networks but also live in Saudi Arabia. This is, of course, a blessing for next year; next year will be a good year for us," he added.

An illustrative image of an Israel Police officer. (photo: Israel Police)

Police will be stationed throughout Jerusalem to prevent vehicular traffic from disrupting the holy day of Yom Kippur on Monday, and will be on alert to prevent disturbances and suspicious activity, the Israel Police said on Sunday morning.

The State of Israel will bring in the fast day on Sunday evening with increased tensions on the Lebanese and Gazan borders, as well as a spate of terrorist attacks in Jerusalem and counterterrorism operations in the West Bank.

Russian Foreign Minister Sergey Lavrov addresses the 78th session of the United Nations General Assembly, Saturday, Sept. 23, 2023 at United Nations headquarters. (photo: Mary Altaffer, AP)

Russia's top diplomat denounced the United States and the West on Saturday as self-interested defenders of a fading international power structure, but he didn't discuss his country's war in Ukraine in his speech to the U.N. General Assembly.

"The U.S. and its subordinate Western collective are continuing to fuel conflicts which artificially divide humanity into hostile blocks and hamper the achievement of overall aims. They're doing everything they can to prevent the formation of a genuine multipolar world order," Foreign Minister Sergey Lavrov said.

Later, in a press conference, Lavrov said the U.S. was "effectively engaged in hostilities with us, using the Ukrainians as fodder."

"You can call this whatever you want to call this, but they are directly at war with us," he said. "We call this a hybrid war. But that doesn't change the reality."

Israeli Foreign Minister Eli Cohen speaks at the American Jewish Committee's offices in New York City during the United Nations General Assembly on Sept. 21, 2023. (photo: Govt. of Israel, Twitter; caption: Audacy.com)

Six or seven Muslim nations will join Saudi Arabia in making peace with Israel following the conclusion of the long-sought normalization deal with the Saudis, Foreign Minister Eli Cohen revealed in an interview with KAN News on Friday afternoon.

Speaking directly after Netanyahu's speech at the UN General Assembly in which he heralded the dawn of a "new Middle East," Cohen said that "it's important to restate what the prime minister said, peace with Saudi Arabia is also peace between Jews and the Muslim world.

"Six or seven nations from Africa and Asia will join the peace deal with the Saudis," Cohen said. 

Saudi Arabia Foreign Minister Prince Faisal bin Farhan Al Saud attends a meeting with US Secretary of State Antony Blinken and United Arab Emirates Foreign Minister Abdullah bin Zayed Al Nahyan on the sidelines of the 78th United Nations General Assembly, September 19, 2023. (photo: Caitlin Ochs, Pool via AP)

The Saudi foreign minister tells the UN General Assembly that a solution must be expedited for the Palestinians for the sake of Middle East security.

"The stability of the region rests on a just and comprehensive solution for the Palestinian cause… and the establishment of a Palestinian state based on 1967 borders with East Jerusalem as its capital," Faisal bin Farhan says in his address.

The comment comes amid increased talk about a potential historic normalization deal between Saudi Arabia and Israel, with Riyadh said to demand Israeli concessions to Palestinians that nevertheless fall short of giving them an independent state.

Bin Farhan adds on the subject of the Israeli-Palestinian conflict that his country "rejects and condemns all the unilateral steps that constitute a blatant violation of international laws and which contribute to the collapse of regional and international peace efforts and are hindering the path of diplomatic solutions."

Saudi Arabia has said that any solution to the Palestinian-Israeli conflict would need to include an independent Palestinian state with east Jerusalem as its capital.

The statement was made by Saudi Foreign Minister Faisal bin Farhan Al Furhan Al-Saud at the UN General Assembly on Saturday night. He spoke the day after Prime Minister Benjamin Netanyahu gave his address, during which he touted the idea of a "new Middle East" with normalization between Israel and Saudi Arabia.

Prime Minister Benjamin Netanyahu uses a red marker on a map of 'The New Middle East' as he addresses the 78th session of the United Nations General Assembly, Friday, Sept. 22, 2023. (photo: Bryan R. Smith, AFP)

Taking the stage Friday at the United Nations General Assembly, Prime Minister Benjamin Netanyahu said that Israel is "at the cusp" of a historic peace agreement with Saudi Arabia, a deal he predicted will transform the Middle East.

"Such a peace will go a long way to ending the Arab-Israeli conflict," said Netanyahu, addressing the gathering for the 12th time. "It will encourage other Arab states to normalize their relations with Israel. It will enhance the prospects of peace with the Palestinians. It will encourage a broader reconciliation between Judaism and Islam, between Jerusalem and Mecca, between the descendants of Isaac and the descendants of Ishmael."

"All these are tremendous blessings."

US Secretary of State Antony Blinken looks on during a meeting with Turkey's Foreign Minister Hakan Fidan in New York, Friday, Sept. 22, 2023. (photo: Bing Guan, Pool Photo via AP)

Iran's pursuit of a nuclear program is a "profoundly destabilizing element" and its decision to bar UN nuclear inspectors from overseeing nuclear sites in the country last week suggest it is not interested in "being a responsible actor," said US Secretary of State Antony Blinken on Friday.

At a press briefing Friday, Blinken answered a question about Saudi Arabia's demand for US cooperation in establishing a civilian nuclear program on Saudi soil as part of a potential US-brokered normalization deal with Israel, with a reference to a comment made by Saudi Crown Prince Mohammed bin Salman who said this week that if Iran acquires a nuclear weapon, Riyadh must do the same.
---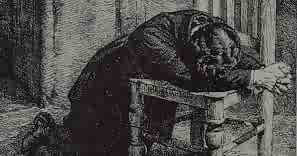 "The men who have done the most for God in this world have been early on their knees. He who fritters away the early morning, its opportunity and freshness, in other pursuits than seeking God will make poor headway seeking Him the rest of the day. If God is not first in our thoughts and efforts in the morning, He will be in the last place the remainder of the day." 
― E.M. Bounds