Top News

Russian President Vladimir Putin speaks as he participates in the annual meeting of the Valdai Discussion Club via video conference at the Novo-Ogaryovo residence outside Moscow, Russia, Thursday, Oct. 22, 2020. (Alexei Druzhinin, Sputnik, Kremlin Pool Photo via AP)

MOSCOW (AP) — Russian President Vladimir Putin said Thursday there is no need for a Russia-China military alliance now, but noted it could be forged in the future.

Putin's statement signaled deepening ties between Moscow and Beijing amid growing tensions in their relations with the United States. The Russian leader also made a strong call for extending the last remaining arms control pact between Moscow and Washington.

Asked during a video conference with international foreign policy experts Thursday whether a military union between Moscow and Beijing was possible, Putin replied that "we don't need it, but, theoretically, it's quite possible to imagine it." 

Russia and China have hailed their "strategic partnership," but so far rejected any talk about the possibility of their forming a military alliance.

Sudanese students burn an Israeli flag as they demonstrate against the Israeli airstrikes in Gaza outside the UN headquarters in Khartoum, Sudan, December 29, 2008.(AP/Abd Raouf)

Israel and Sudan will announce the establishment of diplomatic ties over the weekend or early next week in a US-brokered deal, Hebrew media reported Thursday, citing officials involved in the negotiations.

The announcement will likely come after a phone call between US President Donald Trump, Sudan's transitional leader Lt. Gen. Abdel Fattah al-Burhan, Sudan's Prime Minister Abdalla Hamdok and Prime Minister Benjamin Netanyahu, according to the Walla news site.

The breakthrough comes after a high-level Israeli-US delegation reportedly traveled to Sudan on Wednesday for covert negotiations on the normalization of ties between Khartoum and Jerusalem.

USNI: HI Sutton Image used with permission

Last week, the Iranian-flagged oil tanker Samah entered the Mediterranean Sea via the Suez Canal. After a few miles, the 900-foot-long ship stopped reporting its position and destination. Evidence suggests the ship sailed to Syria, escorted by two Russian Navy ships, including a destroyer.

Russia's role in protecting the shipment may change the dynamics in the Eastern Mediterranean. In the past, Iranian tankers sailing to Syria have been intercepted by the U.K. Royal Navy. The Russian Navy escort could be viewed as a precautionary step, raising the political and military risks of any intervention by the Royal Navy or others.

Last July, an Iranian tanker destined for Syria, Adrian Darya-1, was seized by U.K. Royal Marines off Gibraltar. The British accused Iran of supplying Syria with oil in contravention of European Union sanctions. Iran quickly seized a British-flagged tanker in a likely retaliatory move. Eventually, in September, Adrian Darya-1 was released by a local court with the assurance that it would not deliver its oil to Syria – but days later, it transshipped its oil in Syrian waters.

US Ambassador to Israel David M. Friedman (photo credit: MARC ISRAEL SELLEM)

The American position is that West Bank settlements should remain in place permanently and Israel should apply sovereignty to them at a later date, US Ambassador to Israel David Friedman said on Wednesday."

The position of the United States is that Jewish communities in Judea and Samaria will never be evacuated. We will never ask any community in Judea and Samaria to ever disband," Friedman said in a Kohelet Policy Forum conference on the Abraham Accords, conducted online. "We believe in long run, it is in Israel's interest and America's interest to extend [Israeli] sovereignty over these communities."

The Trump administration's plan, should he be reelected, is "to put all our efforts in the near future in diplomatic efforts to make Israel as safe, secure and prosperous as the nations of the region and reduce that threat level as much as possible" by encouraging more countries to normalize ties with Israel.

"When we feel we've exhausted these efforts, of course we will help Israel formalize its boundaries, including communities in Judea and Samaria," Friedman said.

L to R: Bahrain's Foreign Minister Abdullatif Al Zayani, Israel's Prime Minister Benjamin Netanyahu, US President Donald Trump and United Arab Emirates (UAE) Foreign Minister Abdullah bin Zayed participate in the signing of the Abraham Accords. September 15, 2020 (photo credit: REUTERS/TOM BRENNER)

The arrival of the first-ever official government delegation from the United Arab Emirates in Israel this week came with an announcement that the countries, along with the US, were launching the Abraham Fund.

The fund, based in Jerusalem and established with a commitment from the three states involved to mobilize over $3 billion in investments, is meant "to identify and initiate strategic projects with a high developmental impact, including those that catalyze economic growth, improve standards of living, and create high-value, quality jobs," the joint statement on the Abraham Fund says.

The fund is already involved in two projects. The first is "MedRed:" Israeli pipeline company EPAC had just struck a preliminary deal to transport oil from the UAE to Europe via a pipeline connected the Red Sea from Eilat to the Mediterranean at the Ashdod port. The second is an effort to modernize checkpoints for Palestinians in Israel and Jordan.

Illustrative: Explosions are seen in the Syrian town of Salamiyah on June 24 after an alleged Israeli airstrike (video screenshot)

Syrian state media said Israel had fired a missile early Wednesday at a site in the Quneitra province in southern Syria, near the Golan Heights border.

The Britain-based Syrian Observatory for Human Rights said the strike hit a base for pro-Iran militias, adding that I was "likely" responsible.

However, the official SANA news agency said the midnight attack hit a school building in the village of Al-Harah, without providing further details.

Hwasong-12/KN-17 - Photo Missile Defense Advocacy Alliance

Following the end on the 18th of October of the 13-year United Nations' embargo on Iran buying or selling weapons, the roll-out of the military component of the 25-year deal between China and Iran will begin in November, as exclusively revealed by Oil Price.com. After a series of meetings in China on the 9th and 10th of October between Iran's Foreign Minister, Mohammad Zarif, and his China counterpart, Wang Yi, this military component may now also feature the deployment in Iran of North Korean weaponry and technology, in exchange for oil, according to sources very close to the Iranian government spoken to by OilPrice.com last week.

Most notably this would include Hwasong-12 mobile ballistic missiles, with a range of 4,500 kilometres, and the development of liquid propellant rocket engines suitable for intercontinental ballistic missiles (ICBMs) or satellite launch vehicles (SLVs). This will all be part of a broader triangular relationship co-ordinated by Beijing and further facilitated by the imminent launch of a new digitised currency system by China.

This sort of co-ordination – between North Korea and Iran and also between North Korea, Iran, and China – is nothing new, although its resumption at such a scale and in such products is. According to a number of defence industry sources - and recorded in various 'Jane's Intelligence Reviews' (JIR) - over the first five-year period from the onset of Iran's ballistic missile program in 1987, Iran bought up to 300 Scud B missiles from North Korea.

Pyongyang, though, did not just sell Iran weapons but it was also instrumental in helping Iran to build-out the infrastructure for what has become an extremely high-level ballistic missile program, beginning with the creation in Iran of a Scud B missile plant that became operational by the end of 1988.

A missile is launched during the annual military drill, dubbed "Zolphaghar 99", in the Gulf of Oman with the participation of Navy, Air and Ground forces, Iran on September 9, 2020. (photo credit: WANA NEWS AGENCY/REUTERS)

Iran says that it is conducting a massive air defense drill that will cover half of Iran's airspace this week. It will begin on Wednesday and comes in the wake of a joint Israel F-35 drill with the US. It comes in the context of increased focus on air defense in the region after Azerbaijan has used drones successfully against Armenian forces for the last three weeks of fighting. An arms embargo on Iran recently expired and the country is looking to improve its military and defense technology. 

Iran's Tasnim news says that the new drill with air defense units is aimed at "improving the combat readiness and increasing the air defense capability of the Armed Forces and is one of the goals of holding a joint specialized air defense exercise for the 99th Sky Defenders of the provinces." The operation will take place as if it is a "real battle."

FILE PHOTO: Turkish President Tayyip Erdogan attends a news conference during a visit to Moscow

American adversaries and rogue nations around the world sense a "power vacuum" in the United States in the final days of the 2020 presidential elections that raises the risk of foreign policy crises, allied sources fear. 

"In our region, we feel that America doesn't have time, wish, or resources or political will to devote attention, and we also feel some kind of vacuum," a Baltic official said. "We feel the absence of America from our region, and this absence has some negative connotations." 

The proliferation of that sentiment has left allies feeling more vulnerable to threats from Russia and China over the coming weeks. It may account even for the hardening of disputes within the U.S. alliance network, such as the recent surge in aggressive foreign policy moves by Turkish President Recep Tayyip Erdogan. 

"Erdogan is becoming more prone to risk-taking," Greek lawmaker Dimitrios Kairidis told the Washington Examiner. "He feels a bit more emboldened, the closer we go to the elections. In his mind now, he sees a power vacuum in Washington he wants to exploit."

The US leader made the announcement over Twitter [Alex Brandon/AP Photo]

NEW YORK — US President Donald Trump announced Monday that he would be removing Sudan from the State Department's list of state terror sponsors in what is widely believed to be a precursor to Khartoum normalizing relations with Israel.

"GREAT news! New government of Sudan, which is making great progress, agreed to pay $335 MILLION to U.S. terror victims and families. Once deposited, I will lift Sudan from the State Sponsors of Terrorism list. At long last, JUSTICE for the American people and BIG step for Sudan!" Trump tweeted.

Trump made no mention of a decision by Sudan to normalize ties with Israel, but the US has pushed Khartoum to take that step for weeks, and it has been widely reported that Washington conditioned its decision to drop the northeast African nation from its terror blacklist on it forging official relations with the Jewish state.

Coastal rocket bases have been equipped with DF-17 ballistic missiles. Photo: AP

Beijing is stepping up the militarisation of its southeast coast as it prepares for a possible invasion of Taiwan, military observers and sources have said.

The People's Liberation Army has been upgrading its missile bases, and one Beijing-based military source said it has deployed its most advanced hypersonic missile the DF-17 to the area.

"The DF-17 hypersonic missile will gradually replace the old DF-11s and DF-15s that were deployed in the southeast region for decades," the source, who requested anonymity, because of the sensitivity of the topic. "The new missile has a longer range and is able to hit targets more accurately."

Palestinian Saeb Erekat during a press conference in the West Bank city of Ramallah, September 11, 2018. (AP Photo/Nasser Shiyoukhi)

Senior Palestinian official Saeb Erekat was downgraded to critical condition Monday morning at a Jerusalem hospital where he was moved for treatment a day earlier after being diagnosed with COVID-19.

Erekat, the secretary-general of the Palestine Liberation Organization and a close confidant of Palestinian Authority President Mahmoud Abbas, was put on a ventilator and his overall medical condition is posing a unique challenge for the staff, Hadassah Ein Kerem Hospital said.

"Erekat had a quiet night but this morning his condition deteriorated and is now defined as critical, and due to respiratory distress he was intubated and sedated," the hospital said in a statement.

"Erekat poses a huge challenge in the treatment of the coronavirus due to his lung transplant and its suppression of the immune system, and with a bacterial infection in addition to the coronavirus," the hospital said. "Hadassah, with its most senior professional physicians, is in contact with international medical professionals regarding such a complex patient care policy."

Fox Photo

The Biden campaign is facing renewed criticism over its deep connections with Big Tech after both Twitter and Facebook censored a story from The New York Post detailing allegedly corrupt business deals by Joe Biden's son Hunter Biden.

The move prompted fresh criticism on social media over the Biden transition team's hiring of top Facebook executive Jessica Hertz, which reportedly came days after the 2020 Democrat's campaign penned a letter to the social media giant urging them to censor President Trump's posts.

Twitter's suppression of the Hunter Biden revelations also came days after the company's director of public policy, Carlos Monje, reportedly left his post to work for the Biden transition team.

The head of the Israeli delegation, National Security adviser Meir Ben Shabbat (R), and Bahraini Foreign Minister Abdullatif bin Rashid Al-Zayan (C), US Treasury Secretary Steve Mnuchin (L) - lRonen Zvulun/Pool/AFP)

A joint US-Israeli delegation arrived in Bahrain Sunday afternoon to sign a series of bilateral agreements between Jerusalem and Manama, including a so-called Joint Communiqué that will formally establish diplomatic relations between the two countries.

El Al Flight 973 — a nod to Bahrain's country code — landed in Manama after taking off from Ben Gurion Airport in the first-ever nonstop passenger flight from Israel to the Gulf kingdom.

Bahraini Foreign Minister Abdullatif bin Rashid Al-Zayani welcomed the joint US-Israeli delegation at the airport. 

UAE and Bahrain are small countries: 

United Arab Emirates 9,890,402 million population—only 20 percent or 1,978,080 million Emiratis, 7.8 million expatriates
Bahrain—1,592,000 million population —70 percent or 1,114,000 million Muslims, 29.8% are of other religions and beliefs

 

A construction site in Maale Adumim, near Jerusalem | File photo: AP/Oded Balilty

Israeli plans to advance the building of thousands of homes in Judea and Samaria drew European condemnation on Friday as approvals for constructions hit a record high in 2020.

The European countries warned the building perpetuates the Israeli-Palestinian conflict and further threatens the viability of a two-state solution. The warning came after Israel on Thursday pressed forward on plans for more than 3,000 settlement homes.

The Palestinians claim all of the West Bank, seized by Israel in the 1967 Mideast war, as part of a future independent state. They say the growing settler population, approaching 500,000, has made it increasingly difficult to achieve their dream of independence.

"We are deeply concerned by the decision taken by the Israeli authorities to advance more than 4,900 settlement building units in the occupied West Bank," said a joint statement by foreign ministry spokespersons of Britain, France, Germany, Italy, and Spain.

A Shahab-3 surface-to-surface missile is on display at an exhibition by Iran's army and paramilitary Revolutionary Guard in downtown Tehran, Iran, Wednesday, Sept. 25, 2019. (AP/Vahid Salemi)

TEHRAN, Iran — A longstanding UN embargo on arms sales to and from Iran expired early Sunday in line with a 2015 landmark nuclear deal, the Iranian foreign ministry said.

"As of today, all restrictions on the transfer of arms, related activities and financial services to and from the Islamic Republic of Iran … are all automatically terminated," the ministry said in a statement.

The embargo on the sale of arms to Iran was due to start expiring progressively from Sunday, October 18, under the terms of the UN resolution that blessed the 2015 nuclear deal between the Islamic republic and world powers.

"As of today, the Islamic Republic may procure any necessary arms and equipment from any source without any legal restrictions, and solely based on its defensive needs," the ministry added in the statement sent out on Twitter.
---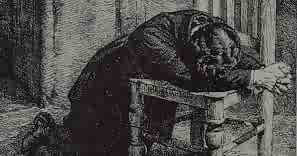 "The men who have done the most for God in this world have been early on their knees. He who fritters away the early morning, its opportunity and freshness, in other pursuits than seeking God will make poor headway seeking Him the rest of the day. If God is not first in our thoughts and efforts in the morning, He will be in the last place the remainder of the day." 
― E.M. Bounds