Top News

National security adviser Lt. Gen. H.R. McMaster speaks at the FDD National Security Summit in Washington. (photo: Reuters, Yuri Gripas)

US President Donald Trump is prepared to withdraw from a nuclear agreement reached with Iran and other international powers in 2015, his national security adviser, H.R. McMaster, said on Thursday.

Speaking at a forum hosted by the Foundation for Defense of Democracies, a think tank that contributed research and scholarship to the Trump administration's new strategy on Iran unveiled last week, McMaster said the president's first choice is to get Congress and European allies on board with a "pressure" strategy that will force Iran back to the negotiating table.

Trump's national security team hopes to negotiate an addendum to the nuclear deal that will address its greatest concerns with the current agreement: its expiration dates, its omission of any restrictions on Iran's ballistic missile work and its opaque language on granting international nuclear inspectors swift access to Iran's military bases.

Prime Minister Benjamin Netanyahu delivers a speech marking 50 years of Israeli presence in the Jordan Valley . (photo credit:KOBI GIDEON/GPO)

Iran will take over the Jordan Valley unless Israel maintains a military and civilian presence in the area, Prime Minister Benjamin Netanyahu said on Thursday night at a jubilee event marking the 50th anniversary of the state's control of the region.

We will not let this happen," said Netanyahu, as he made a rare visit to the Jordan Valley where some of the first settlements were built after the Six Day War.

Eliciting shouts, whistles and applause, Netanyahu pledged that he would not uproot the Jordan Valley settlements.

"The Jordan Valley will always be part of Israel. We will continue to settle it and invest in its industry and its tourism," the prime minister said.

The region "has supreme security importance for the State of Israel," he added.

"The Middle East is fickle and violent. The Jordan Valley is a strategic defensive belt for the state. Without it, a flood of fundamentalism could enter the country and reach as far as the Dan region. That's why our eastern line of defense begins in this place," Netanyahu said.

CIA Director Mike Pompeo speaks during the Foundation for Defense of Democracies (FDD) National Security Summit in Washington on October 19, 2017. (AP/Carolyn Kaster)

Islamic State militants are capable of orchestrating and carrying out an attack against the United States, possibly downing an airplane, even after being evicted from their self-declared Syrian capital of Raqqa, the CIA director said Thursday.

In a speech laying out the top international threats faced by the US, Mike Pompeo said other terror groups had their eyes on America as well, warned that nuclear deal with Iran had done nothing to curb Iran's support for terror and estimated that North Korea was on the verge of reaching full nuclear capability.

Speaking a day after President Donald Trump's acting homeland security chief invoked the possibility of another 9/11-style attack, Pompeo said America's enemies around the world "are intent upon using commercial aviation as their vector to present a threat to the West." However, he also worried about a terrorist capability "we just don't see."

A UN observer looks at a lookout point as smoke rising at a Syrian village near the Israeli-Syrian border in the Golan Heights during fights between the rebels and the Syrian army, June 25, 2017. (photo: Flash90, Basel Awidat)

Prime Minister Benjamin Netanyahu and Russian President Vladimir Putin discussed the Syrian conflict in a phone call Wednesday afternoon, two days after Israeli jets bombed an anti-aircraft battery near Damascus which had fired on an Israeli plane, the Kremlin said.

The two leaders also discussed the Iran nuclear deal and Iraqi Kurdistan, according to Moscow.

"There was a thorough discussion of ways to resolve the Syrian crisis, the situation surrounding Iran's nuclear program and the results of the referendum in Iraqi Kurdistan," a statement from the Kremlin read.

The New York Times cover from October 20, 1987.

Thursday, October 19, 2017 marks 30 years since the Black Monday Stock Market Crash of October 19, 1987. On the weekend directly before the crash, US Secretary of State George Shultz was in the Middle on a diplomatic mission which included among other things making efforts for Israel to negotiate peace with its Arab neighbors. The Dow Jones Industrial Average (DJIA) fell exactly 508 points to 1,738.74 (22.61%). According to the Library of Congress, which referenced another website, "Within that one day, over $500 billion was lost from the Dow Jones Index."

In his weekly radio address on Saturday, October 17, 1987, President Ronald Reagan stated the following: "Secretary of State George Shultz is on a diplomatic mission that reflects the breadth, the intensity, and the importance of our country's foreign policy efforts. Today he's in the Middle East. He'll meet with the leaders of Israel, Jordan, Egypt, and Saudi Arabia. ... Our wider role in the Middle East—perhaps more than in any other region—is that of peacemaker. We are doing our best to help narrow the differences between Israel and her Arab neighbors so that real negotiations for peace can get started."

Click this link for some additional information.
---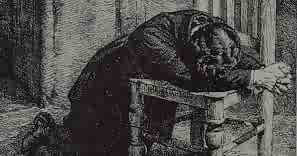 "The men who have done the most for God in this world have been early on their knees. He who fritters away the early morning, its opportunity and freshness, in other pursuits than seeking God will make poor headway seeking Him the rest of the day. If God is not first in our thoughts and efforts in the morning, He will be in the last place the remainder of the day." 
― E.M. Bounds