Top News

Netanyahu, Hollande and Abbas. (photo:Reuters)

Prime Minister Benjamin Netanyahu on Wednesday accepted French President François Hollande's invitation to meet with him and Palestinian Authority President Mahmoud Abbas in Paris later this month, as long as there is no international conference.

The French are planning a conference of foreign ministers in Paris on December 21 to discuss the Israeli-Palestinian issue, and invited Netanyahu and Abbas to come to the city the day after for a meeting of their own.

Israel has made clear that it sees the French-led conference, a follow-up to a meeting of foreign ministers in Paris over the summer, as an effort to impose a settlement on it, and that it will not take part.

The Israeli homefront is ill-prepared to deal with prolonged missile attacks, a report by State Comptroller Yosef Shapira warned Tuesday.

The report found gaps in communities' emergency readiness in terms of infrastructure, as well as with respect to early warning and evacuation readiness.

Public municipal shelters, as well as shared residential shelters, were found to be below standard in dozens of communities, effectively placing some 2 million Israelis at risk. The report warned that public shelters in most cities were ill-equipped and would not be able to accommodate long-term stay.

View of Lebanon as seen from the Israeli side of the border, November 10, 2016. (Doron Horowitz/FLASH90)

The Israeli military on Tuesday posted a map of southern Lebanon to Twitter, on which it marked Hezbollah positions, infrastructure and armaments along a section of the Israeli border.

The map, according to Channel 2 News, features over 200 towns and villages which the organization has turned into its operations bases, and shows over 10,000 potential targets for Israeli strikes in the event of a new war with the terror group.

A caption on the photo noted that it had been declassified, in an apparent calculated move by Israel to build a case for any future military action. It could also serve as a warning to the terror group itself, demonstrating Israel's intelligence gathering capabilities as a deterrent.

Screen shot of footage of alleged Israeli missile strike on the Syrian Mazzeh airbase near Damascus on December 7, 2016. (Credit: Twitter)

The Israeli military fired missiles from within "occupied" territory at an important Syrian regime airbase outside Damascus overnight Tuesday, Syrian state media reported hours later.

"At 3:00 a.m., the Israeli enemy fired several surface-to-surface missiles from inside occupied territory," the state news agency SANA said, citing a military source. The report said the Israeli missiles caused a large fire but no injuries or deaths.

SANA said the missiles were fired from a position "west of Tal Abu Nada," a mountain in the Israeli Golan Heights known as Mount Avital in Israel.

It has been a dreadful year for the European Union. It has just got a lot worse. Next year could transform a looming existential threat into a terminal reality. The end of a joint 60-year project to transform the politics of an entire continent is now a distinct possibility. 

Some would greet the prospect with glee, others with horror. But few have thought through what it would mean if the pillars came crashing down.

The Italian vote means, as here, a populist, anti-establishment surge has defenestrated a prime minister.

In this photo released by official website of the office of the Iranian Presidency, President Hassan Rouhani, center, Science Minister Mohammad Farhadi, right, and head of the President's office Mohammad Nahavandian, left, listen to the national anthem at the start of a ceremony marking Student Day at Tehran University in Tehran, Iran, Tuesday, Dec. 6, 2016.

Iran's President Hassan Rouhani is threatening the United States with a "harsh reaction", after Congress voted last week to renew sanctions against the country for an additional 10 years.

Rouhani said if U.S. President Barack Obama implements the sanctions it would mark a "blatant and clear breach" of the nuclear agreement reached last year.

Chancellor Angela Merkel at the annual meeting of her Christian Democrats on Dec. 6, 2016, in Essen, Germany. (Volker Hartmann/Getty Images)

German Chancellor Angela Merkel, who last year opened the door to nearly 1 million mostly Muslim migrants, staked out a tough new stance on conservative Islam on Tuesday by making her first direct call for a widespread ban on "full veil" religious coverings.

Her backing could add Germany to the growing list of European nations imposing restrictions on Islamic coverings as debates sharpen across the continent over religious tolerance, perceived threats to European identity and possible security threats from Islamists.

It could also signal a pragmatic shift to the right for Merkel, who is seeking a fourth term as Germany's leader. In the wake of Britain's vote to leave the European Union and the U.S. election of Donald Trump, the tolerant Merkel became seen as among the last guardians of liberal democracy in the West. 

But her handling of the refu­gee crisis — which hit her approval ratings and caused internal party dissent — is now seen as a critical weakness looking ahead to next year's elections.
---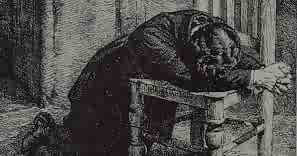 "The men who have done the most for God in this world have been early on their knees. He who fritters away the early morning, its opportunity and freshness, in other pursuits than seeking God will make poor headway seeking Him the rest of the day. If God is not first in our thoughts and efforts in the morning, He will be in the last place the remainder of the day." 
― E.M. Bounds