Top News

Chief of Staff of Iran's Armed Forces, General Mohammad Hossein Bagheri delivers a speech during a military parade marking the 36th anniversary of Iraq's 1980 invasion of Iran, in front of the shrine of late revolutionary founder Ayatollah Khomeini, just outside Tehran, Iran, on September 21, 2016. (AP Photo/Ebrahim Noroozi)

Iranian officials on Wednesday dismissed a series of demands from US Secretary of State Mike Pompeo, saying the US was afraid to face Iran in battle and vowed to push ahead with its military programs.

On Monday, Pompeo said the Trump administration was preparing to impose "the strongest sanctions in history" on Tehran after withdrawing from the Iran nuclear deal earlier this month, as he laid out a list of demands for a new treaty.

"Iranian armed forces are now, thank God, more prepared than ever and will not wait for the permission or approval of any foreign power to develop defense capabilities," Mohammad Bagheri, the chief of staff of Iran's armed forces, said according to Iran's Mehr news agency, an apparent reference to their missile program.

Ayatollah Ali Khamenei delivers a speech during Labor Day at a workers' meeting, April 30, 2018. (AFP Photo/Iranian Supreme Leader's Website /HO)

Iranian Supreme Leader Ayatollah Ali Khamenei on Wednesday set conditions for Europe for Tehran to remain in the 2015 nuclear accord, following the US withdrawal from the deal earlier this month.

Khamenei, addressing government officials on the occasion of the Muslim holy month of Ramadan, said European powers must vow not to seek new limitations on Iran's ballistic missile program or its activities in the Middle East, as demanded by the Trump administration.

They must also "fully guarantee Iran's oil sales," he said, adding that if the US "damages" oil sales through renewed economic sanctions, "Europeans should make up for that and buy Iranian oil.

People protest in Tehran, Iran December 30, 2017 in this still image from a video obtained by REUTERS. (photo credit: REUTERS)

Protesters in the southern Iranian city of Kazerun represent wider percolating unrest that has continued in Iran since the large protests in December and January.

Several protesters were reportedly killed on May 16 when police used deadly force to disperse them.

Video posted online on Tuesday showed hundreds of people chanting that they would "avenge" the dead during renewed protests.

The seeds of this week's protests lie in the mass protests that broke out in Mashhad last December.
 

Prime Minister Benjamin Netanyahu walks with Commander of the Israel Air Force's Tel Nof Base Brigadier General Peleg Niego on May 23, 2018. (Kobi Gideon/GPO)

Prime Minister Benjamin Netanyahu says the Israeli Air Force plays a "crucial role" in the government's policy to prevent Iranian entrenchment in Syrian and acquisition of nuclear weapons.

"We will not let Iran establish military bases in Syria, and we will not let Iran develop nuclear weapons. The Israeli Air Force plays a crucial role in implementing this policy and has done so consistently and effectively for the past several years," Netanyahu says, speaking at the International Air Force Commanders Conference.

"Israel deeply appreciates the strong leadership of President Trump and Secretary Pompeo's 12-point plan to block Iran's aggression and I can tell you with confidence that the appreciation that I just expressed is broadly shared by many others in the Middle East. This is not just an Israeli position," the prime minister adds.

This picture released by the official website of the Iranian Defense Ministry on Saturday, July 22, 2017, shows Sayyad-3 air defense missiles during inauguration of its production line at an undisclosed location, Iran, according to official information released. (Iranian Defense Ministry via AP)

The Pentagon plans to take "new measures" to counter Iran's influence in the Middle East, a Pentagon spokesman said on Monday after US Secretary of State Mike Pompeo announced a new US strategy with regard to Tehran.

"We are going to take all necessary steps to confront and address Iran's malign influence in the region," Department of Defense spokesman Rob Manning said at a Pentagon press conference. "We are assessing if we are going to double down on current actions or implement new actions."

He insisted that the entire government was working together on the issue. "We are part of a whole-of-government approach to addressing Iran," he said.

US Secretary of State Mike Pompeo speaks at the Heritage Foundation May 21, 2018, in Washington, DC. (Win McNamee/Getty Images/AFP)

WASHINGTON — US Secretary of State Mike Pompeo said the Trump administration was preparing to impose "the strongest sanctions in history" on Tehran after withdrawing from the Iran nuclear deal earlier this month, and laid out a laundry list of demands for a new treaty, in his first major speech outlining Washington's strategy for curtailing the Islamic Republic's nuclear ambitions and its regional adventurism.

"We will apply unprecedented financial pressure on the Iranian regime," Pompeo told a crowd gathered at the Heritage Foundation, a conservative think tank based in the nation's capital.

"The sting of sanctions will only grow more painful if the regime does not change course from the unacceptable and unproductive path it has chosen for itself and the people of Iran," he added.

Merkel, May and Macron (left to right)

Five world powers reportedly mulling offering Tehran financial aid in exchange for it adhering to 2015 nuclear accord, curbing its missile program and limiting its meddling in the region.

Diplomats from Europe, China and Russia are discussing a new accord to offer Iran financial aid to curb its ballistic missile development and meddling in the region, in the hope of salvaging its 2015 nuclear deal, a German newspaper reported on Sunday.

The officials will meet in Vienna in the coming week under the leadership of senior European Union diplomat Helga Schmid to discuss next steps after the May 8 decision by US President Donald Trump to pull out of a 2015 nuclear accord with Iran, the Welt am Sonntag newspaper said, citing senior EU sources.

 

The east Jerusalem neighborhood of Abu Dis and the security barrier that separates it from the rest of the city. (photo credit: MARC ISRAEL SELLEM)

The Abu Dis neighborhood in east Jerusalem will be the capital of a Palestinian state in US President Donald Trump's planned peace deal between Israel and the Palestinians, Yesh Atid chairman Yair Lapid said Monday.

"Over the weekend, different sources began saying that in the American paper that will be presented next month, Abu Dis will be mentioned as the capital of Palestine," Lapid said at a Yesh Atid faction meeting.

Lapid argued that Prime Minister Benjamin Netanyahu must know about this plan and agreed to it.

"This brings up two questions," Lapid said. "One, is the two-state solution back on the table with the prime minister's agreement? Two, is Abu Dis acceptable to Netanyahu as the future Palestinian capital?

"I know that Prime Minister Benjamin Netanyahu doesn't give interviews, but there's a limit to his vagueness. If it's true, the Israeli public needs to know," Lapid said.
---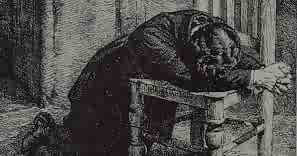 "The men who have done the most for God in this world have been early on their knees. He who fritters away the early morning, its opportunity and freshness, in other pursuits than seeking God will make poor headway seeking Him the rest of the day. If God is not first in our thoughts and efforts in the morning, He will be in the last place the remainder of the day." 
― E.M. Bounds