Top News

LEBANESE SOLDIERS drive near the border with Israel in Kafr Kila, in October. Israel has used its ability to operate in the skies over Syria to prevent weapons transfers to Hezbollah in Lebanon from the Syrian regime.. (photo credit:REUTERS)

Two incidents this week showcase the complexity of the challenges facing Israel on its northern front.

In the first, an air strike killed four members of the Islamic State-affiliated Khalid Ibn al-Walid Brigade after a patrol of the Golani reconnaissance unit in the southern Golan Heights was targeted by the organization. Israeli aircraft then targeted a facility used by the group in the Wadi Sirhan area.

In the second incident, according to regional media reports, Israeli aircraft operating from Lebanese airspace fired Popeye missiles at targets in the Sabboura area, 8 km. northwest of Damascus.

There were no casualties, according to SANA, the official Syrian news agency.

London-based Arabic newspaper Rai al-Youm reported that the Israeli strike was targeting a Hezbollah-bound weapons convoy. The paper also reported that Israeli aircraft carried out a second strike on a facility of Syria's 4th Armored Division, near Damascus.

State-sponsored hackers who unleashed a digital bomb in key parts of Saudi Arabia's computer networks over the last two weeks damaged systems at the country's central bank, known as the Saudi Arabian Monetary Agency, according to two people briefed on an ongoing investigation of the breach.

The central bank said in a statement late Friday that its systems hadn't been breached and that it has continuous surveillance to protect against cyberthreats.

The attacks, which afflicted at least eight government entities, used a computer-killing malware known as Shamoon that is linked to Iran, the two people said. They had the potential to inflict damage on targets across several critical sectors, including finance and transportation.

Gen. James N. Mattis met with U.S. Marines at Camp Rhino in Afghanistan in December 2001. Credit Jim Hollander/European Pressphoto Agency

President-elect Donald J. Trump's selection of Gen. James N. Mattis as defense secretary signals a more assertive American posture in the Middle East — one that people close to him say would most likely include more American troops on the ground in Iraq and Afghanistan, more Navy patrols in the Persian Gulf and more fighter jets in the Middle East.

"The closest thing we have to Gen. George Patton," Mr. Trump said in announcing his selection on Thursday night. At first glance, the similarity is there: Like General Mattis, General Patton, who led American troops into Nazi Germany during World War II, was a colorful, hard-charging advocate of aggressive offensive action.

But officials who know General Mattis caution that he views a tough American posture overseas as something to deter war with potential foes like Iran, not to start one. And although he was so hawkish on Iran as head of United States Central Command from 2010 to 2013 that the Obama administration cut short his tour, General Mattis has since said that tearing up the Iran nuclear agreement, as Mr. Trump has vowed to do, would hurt the United States.

General Mattis now favors working closely with allies to strictly enforce the deal.

Europol director Rob Wainwright poses for a picture during an interview in The Hague, Netherlands, Friday, Dec. 2, 2016 (AP Photo/Mike Corder)

Europol warned Friday that the Islamic State group could launch fresh attacks in Europe in the near future, and the agency's director said police forces across the continent are investigating more than 50 terrorism cases.

Europol — the European Union's police agency — said in a grim analysis of IS tactics published Friday that EU countries participating in the US-led coalition fighting the extremist group in Syria and Iraq are most at risk.

France and Belgium are among the European nations that have joined the US-led coalition. Others include Britain, the Netherlands and Denmark. Germany's military also is involved, but not in combat operations.

Europol director Rob Wainwright said in an interview that counterterrorism agencies are tackling the threat from IS in cooperation with his Hague-based agency. Europol currently is assisting more than 50 terror investigations by national agencies across the continent, he said.

President-elect Donald Trump kicked off his post-election "Thank You" tour Thursday by announcing that he would nominate retired Marine Gen. James Mattis as secretary of defense. 

At a rally in Cincinnati, Trump described Mattis as "one of our great, great generals" and added that a formal announcement would be made Monday, "so don't tell anybody." 

"They say he's the closest thing to Gen. George Patton that we have," Trump told the crowd, "and it's about time. It's about time."
---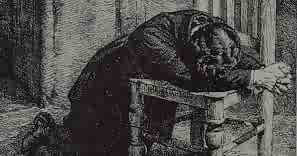 "The men who have done the most for God in this world have been early on their knees. He who fritters away the early morning, its opportunity and freshness, in other pursuits than seeking God will make poor headway seeking Him the rest of the day. If God is not first in our thoughts and efforts in the morning, He will be in the last place the remainder of the day." 
― E.M. Bounds