Top News

Troops from the IDF's 215 Artillery Division (photo credit: IDF SPOKESPERSON'S UNIT)

Troops from the IDF's 215 Artillery Division have completed a week-long tactical drill simulating war on the Lebanese front using a new operational concept aimed to produce a higher level of effectiveness on the battlefield.

Hundreds of troops, as well as officers, commanders and reservists from the 402nd and 55th battalions, participated in the tactical drill taking place in the Jordan Valley, which began on Sunday.

The level and size of the exercise is "something that has never happened before," 402nd Battalion Commander Lt.-Col. Udi Amir told The Jerusalem Post. "One of the important parts of the drill is the new operational concept which will allow us to independently fulfill the mission."

According to Amir, the division has been drilling on bettering their understanding and use of all the new cutting-edge weapon systems that the Artillery Corps has recently acquired such as high-caliber gun systems, remotely piloted aerial vehicles and new computer systems.

A Shahab-3 surface-to-surface missile is on display at an exhibition by Iran's army and paramilitary Revolutionary Guard in downtown Tehran, Iran, Wednesday, Sept. 25, 2019. (AP/Vahid Salemi)

Iran says it is not going to halt or curb activity on its ballistic missile program, in a letter to the UN from envoy Majid Takhte Ravanchi dated from Wednesday.

Ravanchi writes that a November 21 complaint about the missile program to the UN Security Council from France, Britain and Germany is unfounded and based on faulty materials.

"Iran is determined to resolutely continue its activities related to ballistic missiles and space launch vehicles," Ravanchi writes in a copy of the letter tweeted by Iranian Foreign Minister Mohammed Javad Zarif.

Fox Photo

President Trump on Thursday challenged House Democrats to impeach him "fast" and ship the process over to the Senate, where he threatened to seek testimony from top Democrats including House Intelligence Committee Chairman Adam Schiff, former Vice President Joe Biden and his son Hunter, and Speaker Nancy Pelosi.

"The Do Nothing Democrats had a historically bad day yesterday in the House. They have no Impeachment case and are demeaning our Country. But nothing matters to them, they have gone crazy," Trump tweeted, just before Pelosi announced that she wants the Judiciary Committee to proceed with articles of impeachment. 

"Therefore I say, if you are going to impeach me, do it now, fast, so we can have a fair trial in the Senate and so that our Country can get back to business," he continued. "We will have Schiff, the Bidens, Pelosi and many more testify, and will reveal, for the first time, how corrupt our system really is."

He added: "I was elected to 'Clean the Swamp,' and that's what I am doing!"

US Secretary of State Mike Pompeo, left, meeting with PM Netanyahu in Lisbon, December 4, 2019 (Kobi Gideon/GPO)

LISBON, Portugal — Prime Minister Benjamin Netanyahu on Wednesday called for increased action against Iran, indicating that the recent unrest in the Islamic Republic offers an opportunity to topple the regime.

"Iran's aggression is growing, but its empire is tottering. And I say: let's make it totter even further," he said at the beginning of a meeting with US Secretary of State Mike Pompeo.

"Iran is increasing its aggression as we speak, even today, in the region," he added. "They're trying to have staging grounds against us and the region from Iran itself, from Iraq, from Syria, from Lebanon, Gaza, and Yemen. And we are actively engaged in countering that aggression."

In this photo from the US Navy provided on November 19, 2019, the aircraft carrier USS Abraham Lincoln, left, the air-defense destroyer HMS Defender and the guided-missile destroyer USS Farragut transit the Strait of Hormuz with the guided-missile cruiser USS Leyte Gulf. (Mass Communication Specialist 3rd Class Zachary Pearson/U.S. Navy via AP)

WASHINGTON — The United States is weighing sending up to 14,000 more troops to the Middle East in the face of a perceived growing threat from Iran, the Wall Street Journal reported Wednesday.

The expected deployment would include "dozens" more ships and double the number of troops added to the US force in the region since the beginning of this year, the Journal said, citing unnamed US officials.

It said US President Donald Trump could make a decision on the troop boost as early as this month.

Essam Al-Sudani/Reuters American officials said that Iran had capitalized on unrest in Iraq, where protesters demonstrated this week in Basra.

The buildup comes as the United States has rebuilt its military presence in the Middle East to counter emerging threats to American interests, including attacks on oil tankers and facilities that intelligence officials have blamed on Iran. Since May, the Trump administration has sent roughly 14,000 additional troops to the region, primarily to staff Navy ships and missile defense systems.  

But new intelligence about Iran's stockpiling of missiles in Iraq is the latest sign that the Trump administration's efforts to deter Tehran by increasing the American military presence in the Middle East has largely failed.

The missiles pose a threat to American allies and partners in the region, including Israel and Saudi Arabia, and could endanger American troops, the intelligence officials said.

Both Iran and Iraq have been gripped in recent weeks by sometimes violent public protests. In Iraq, some are protesting against Iranian influence.

President Reuven Rivlin at the annual memorial ceremony for Israel's first prime minister, David Ben-Gurion, in Sde Boker. (photo credit: MARK NEYMAN/GPO)

President Reuven Rivlin accused Prime Minister Benjamin Netanyahu and Blue and White leader Benny Gantz of going crazy in his address at the annual memorial ceremony for Israel's first prime minister, David Ben-Gurion, in Sde Boker.

"It seems to me that you want to go crazy," Rivlin said. "So, if that is what you want, go crazy! But why drag the people of Israel with you?" 

Rivlin said there is still time to fix the situation, reach agreements and "return Israel to the correct path."Rivlin's comments come after Netanyahu and Gantz met on Tuesday night.

The meeting ended after only 45 minutes due to disagreements between the two.

Iranian military personnel stand on a submarine during a naval parade on the last day of the Velayat-90 war game in the Sea of Oman near the Strait of Hormuz in southern Iran January 3, 2012. Iran will take action if a U.S. aircraft carrier which left the area because of Iranian naval exercises retu (photo credit: REUTERS)

Iran thinks it is entering the big league in naval powers as its Rear Admiral Hossein Khanzadi announced a joint naval drill with Russia and China. It came as a deputy chief of the Chinese Joint Staff was in a meeting with Khanzadi, according to Iran's Press TV.

What's really behind the scenes of this is that Iran wants to show off after the US and France have both announced maritime security initiatives in the Gulf.

Iran is pushing a "Hormuz peace" plan called HOPE. Now Iran says its Maritime Security Belt drill will go ahead on December 27. Iran wants to work more closely with China. Having Russia on board is a win as well for Tehran. The problem for Tehran is that while China is an emerging naval behemoth, and Russia is a historic naval power, Iran has a weak navy. Iran's great naval "achievements" of the last years has been using fast boats to harass real navies. One US official said at a conference in February that the US could destroy Iran's navy easily. In fact Iran's navy is bifurcated between the IRGC and the actual navy. The IRGC is the one that harasses western governments. The actual navy doesn't do much. But Iran has been showcasing new drones and other technology for its ships.

Reuters Photo

Prime Minister Binyamin Netanyahu will meet US Secretary of State Mike Pompeo this week in Lisbon, the State Department confirmed on Tuesday, according to the Reuters news agency.

Pompeo, who is accompanying President Donald Trump at the North Atlantic Treaty Organization (NATO) summit in London, will be in Lisbon on Wednesday and Thursday and will meet with Portuguese Prime Minister Antonio Costa and Foreign Minister Augusto Santos Silva, the department said in a statement.

It did not say on which day Netanyahu and Pompeo would meet.

Pompeo and Netanyahu are expected to speak about the threat from Iran.

Blue and White leader Benny Gantz and Prime Minister Benjamin Netanyahu meet to discuss possible political frameworks, October 27 2019 (photo credit: ELAD MALKA)

No agreement was reached between Prime Minister Benjamin Netanyahu and Blue and White leader Benny Gantz as they finished talks at the Kirya in Tel Aviv about forming a coalition within about 45 minutes on Tuesday, eight days until the deadline for forming a government.

The Likud complained after the meeting that Gantz did not permit Netanyahu to go first as prime minister even for a short period of time.

"In order to avoid unnecessary elections, Prime Minister Netanyahu offered to pass creative legislation that would set rules for the rotation in the prime minister's office that would prevent either side from violating them."

The Likud said that, "despite our significant concessions, Blue and White continues to prevent a unity government."

Fox Photo

President Trump tangled with French President Emmanuel Macron on Tuesday in a tense exchange in front of reporters in London, where Trump asked Macron if he'd like to take back "some nice ISIS fighters" and then dinged him for his "non-answer" -- just hours after he challenged the French premier's rebuke of the North Atlantic Treaty Organization (NATO).

"I have not spoken to the president about that -- would you like some nice ISIS fighters?" he said, when asked about ISIS fighters from Europe captured in Syria. "I can give them to you, you can take everyone you want." 

After Macron's answer, in which he urged Trump to "be serious" and called for a broader push against ISIS overall, Trump took another swipe.

"This is why he's a great politician, because that's one of the greatest non-answers I've ever heard," Trump joked.

House Republicans delivered a point-by-point rebuttal Monday to Democrats' impeachment efforts, claiming in their own report that the evidence collected in the inquiryto date does not support the accusations leveled against President Trump -- or rise to the level of removal from office.

"The evidence presented does not prove any of these Democrat allegations, and none of the Democrats' witnesses testified to having evidence of bribery, extortion, or any high crime or misdemeanor," Republicans said in a 123-page report, timed to be made public ahead of the majority Democrats' impeachment report.

US President Donald Trump, left, welcomes visiting Prime Minister Benjamin Netanyahu to the White House in Washington, March 25, 2019. (Manuel Balce Ceneta/AP)

Prime Minister Benjamin Netanyahu on Monday said he discussed with US President Donald Trump the possibility of annexing the Jordan Valley and appeared to suggest Washington was not against the step, which is strongly opposed by the international community and in particular neighboring Jordan.

At a groundbreaking ceremony for 12 new factories to be built in Ashkelon's industrial zone, Netanyahu said there were "historic opportunities" that must be seized, and called on rival Blue and White leader Benny Gantz to join a unity government that would advance the bid.

"I spoke yesterday with President Trump, a very important conversation for Israel's security," he said.

IRGC General Allahnoor Noorollahi in a speech at Bushehr in southern Iran on November 29, 2019, broadcast on Bushehr TV. (MEMRI screen capture)

An Iranian general has warned that Iran's missile arsenals are aimed at 21 American military bases in the Middle East and the country is prepared for "the greatest war against the greatest enemy."

In a November 29 speech, at an event in the southern city of Bushehr commemorating 40 years since the establishment of the Basij paramilitary force, Gen. Allahnoor Noorollahi also said that Iran had the ability to raze Haifa and Tel Aviv to the ground.

Noorollahi serves as a top adviser to the commander of the Islamic Revolutionary Guard Corps Officers College. His speech was broadcast on Bushehr TV, and was reported on and translated by the Middle East Media Research Institute.

Aman exchanges Iranian Rials for US Dollars at an exchange shop in the Iranian capital, Tehran, on August 8, 2018. (AFP Photo/Atta Kenare/File)

Israel on Sunday scolded six new European members of the INSTEX barter mechanism meant to circumvent US sanctions on Iran, saying they encouraged the Iranian regime's repression of its citizens and "should be ashamed of themselves."

"While the Iranian regime is killing its own people, European countries rush to support that very murderous regime," Prime Minister Benjamin Netanyahu charged in a video released Sunday.

In a separate statement, Israel's Foreign Ministry said "Belgium, Denmark, Finland, the Netherlands, Norway, and Sweden could not have picked worse timing. The hundreds of innocent Iranians murdered during the latest round of protests are rolling in their graves."

Reuven Rivlin, Benny Gantz and Benjamin Netanyahu meet on September 23, 2019. (photo credit: HAIM ZACH/GPO)

Blue and White leader Benny Gantz is prepared to join Prime Minister Benjamin Netanyahu in making compromises ahead of the December 11 deadline to form a government and prevent a third election in under a year, sources close to Gantz said on Sunday.

Netanyahu already compromised by dropping his insistence on serving as prime minister the first two years in a unity government to one year, and then relaying to Gantz that he would settle for "less than six months without tricks and shticks."

Sources close to Gantz said he was willing to accept the offer and stand up to Blue and White's second and third candidates, MKs Yair Lapid and Moshe Ya'alon, who warned him that it is a trap.

The sources said Gantz will tell them that they can sit out of the government while Netanyahu is prime minister and then join for his two years at the helm. "This can work without breaking up Blue and White," a source close to Gantz said.
---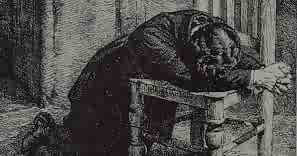 "The men who have done the most for God in this world have been early on their knees. He who fritters away the early morning, its opportunity and freshness, in other pursuits than seeking God will make poor headway seeking Him the rest of the day. If God is not first in our thoughts and efforts in the morning, He will be in the last place the remainder of the day." 
― E.M. Bounds