Top News

US Ambassador to the United Nations Nikki Haley briefs the media in front of remains of Iranian "Qiam" ballistic missile provided by Pentagon at Joint Base Anacostia-Bolling in Washington, US, December 14, 2017.. (photo credit: YURI GRIPAS/REUTERS)

Standing before an exhausted missile that Washington says was made in Iran, shipped to Yemen and fired at Riyadh's international airport, Nikki Haley, the American ambassador to the United Nations, declassified the US government's findings of Iran's military activities in the region on Thursday, warning of its rapid expansion and broad ambitions.

In a speech in a warehouse at Joint Base Anacostia-Bolling in the US capital, Haley said the US intelligence community has uniformly and unequivocally assessed that Iran is supplying arms to Houthi rebels in Yemen illegally, against a series of UN Security Council resolutions restricting its export of arms and missiles. She presented not only the missile fired at the Saudi capital on November 4, but also unmanned "kamikaze" drones and explosive boats, all made with Iranian equipment.

"As you know, we do not often declassify this type of military equipment recovered from these attacks," Haley said. "But today we are taking an extraordinary step of presenting it here in an open setting. We did this for a single urgent purpose: Because the Iranian regime cannot be allowed to engage in its lawless behavior any longer."

July 8, 2016: A Lockheed Martin F-22 Raptor fighter turns during a flying display in Fairford, Britain. (Reuters)

A pair of U.S. Air Force stealth fighter jets intercepted two Russian attack jets in Syria, an area off-limits to Russian jets based on a long-standing mutual agreement, a U.S. defense official told Fox News on Thursday.

During the incident, both American F-22 jets fired flares after cutting across the front of the Russian jets, a tactic known as 'head-butting,' meant to send a strong warning to an opposing warplane. 

The incident took place Wednesday, east of the Euphrates River, the official said.

U.S. military officials raised concerns about the incident through an established hotline established in the past two years between American and Russian air forces.

US President Donald Trump, flanked by White House senior advisor Jared Kushner and Saudi Arabia's Deputy Crown Prince and Minister of Defense Mohammed bin Salman at the Ritz Carlton Hotel in Riyadh, Saudi Arabia . (photo credit: JONATHAN ERNST / REUTERS)

The US administration is serious about getting a peace deal between Israelis and Palestinians, but its proposed plan is still being put together, Saudi Arabia's foreign minister said.

US President Donald Trump's decision to recognize Jerusalem as Israel's capital and eventually move the US Embassy in Israel there has angered the Palestinians, who question Washington's role as a sponsor of Middle East peace.

Trump's adviser and son-in-law, Jared Kushner, is leading efforts to restart negotiations, though his bid has shown little public progress so far.

"We believe the Trump administration is serious about bringing peace between Israelis and Arabs," Saudi Foreign Minister Adel Jubeir, a former ambassador to the United States, told France 24 television late on Wednesday.

Palestinians survey the damage at a military facility belonging to the Hamas terror group in Beit Lahia in the northern Gaza Strip early on December 9, 2017, following an Israeli air strike in response to Gazan rocket fire. (AFP Photo/Mahmud Hams)

Israel's Iron Dome anti-missile system intercepted two rockets fired from the Gaza Strip at Israel on Wednesday, amid increased tensions in the south of the country following repeated attacks, the army said.

A third rocket fired out of the Palestinian enclave Wednesday night hit an open field in the Eshkol region, the military added.

There were no immediate reports of injuries or damage, but two people were treated for anxiety attacks and a man in his 30s lightly injured his leg while running to a rocket shelter, the Magen David Adom rescue service said.

Trump and Abbas during the United Nations General Assembly, September 20, 2017, in New York. Evan Vucci/AP read more: https://www.haaretz.com/us-news/1.828812

WASHINGTON - Palestinian President Mahmoud Abbas's recent comments on the Trump administration's decision to recognize Jerusalem as Israel's capital is the kind of rhetoric "that has prevented peace for decades," a senior White House official said Wednesday.
 

Abbas said on Wednesday the Palestinians will "go to the United Nations Security Council" over full UN membership after the U.S. decided to recognize Jerusalem as Israel's capital. 

Abbas, who spoke at an extraordinary meeting of Islamic leaders in Istanbul on U.S. President Donald Trump's announcement, did not elaborate on how the Palestinians intended to become a full member state.

"The president remains as committed to peace as ever. This rhetoric, which has prevented peace for years, is not surprising as we anticipated reactions like this. We will remain hard at work putting together our plan, which will benefit the Israeli and Palestinian peoples," the White House official said.
 

Israeli Minister Benjamin Netanyahu attends the weekly cabinet meeting in Jerusalem. (photo credit: REUTERS/GALI TIBBON/POOL)

Prime Minister Benjamin Netanyahu on Wednesday urged Palestinians to recognize the "reality" that Jerusalem is Israel's capital and to work for peace, instead of incitement.

Speaking at an event honoring outstanding members of the Mossad, at the President's residence in Jerusalem, Netanyahu said that Israel was also making sure that freedom of worship for all religions was being ensured by Israel.

Netanyahu said the Palestinians should recognize another fact as well: "Not only is Jerusalem Israel's capital, we protect the freedom of worship for all the religions," something that does not exist elsewhere in the region.

"Therefore, all these declarations don't impress us," Netanyahu said of the Istanbul conference. "In the end the truth will win out and many countries will recognize Jerusalem as Israel's capital and move their embassies there."
 

Turkey's President Recep Tayyip Erdogan, center, flanked by other leaders poses for photographs during a photo op prior to the opening session of the Organization of Islamic Cooperation in Istanbul, December 13, 2017. (Lefteris Pitarakis/AP)

Palestinian Authority President Mahmoud Abbas said Wednesday that Palestinians won't accept any future role for the US in the peace process due to US President Donald Trump's recognition of Jerusalem as Israel's capital, and threatened to pull out of existing agreements with the Jewish state.

Abbas told an emergency meeting of Organization of Islamic Cooperation in Istanbul that there could be "no peace or stability" in the Middle East until Jerusalem is recognized as the capital of a Palestinian state.

Turkey is hosting the 57-member OIC in the wake of the US decision — a move widely criticized across the world but hailed by Israel. The summit is expected to forge a unified position of Arab and Muslim countries.

"Jerusalem is and will forever be the capital of the Palestinian state… There will be no peace, no stability without that," Abbas proclaimed.

A co-founder of the opposition research firm Fusion GPS acknowledged in a new court document that his company hired the wife of a senior Justice Department official to help investigate then-candidate Donald Trump last year.

The confirmation from Glenn Simpson came in a signed declaration filed in U.S. District Court in Washington, D.C., and provided a fuller picture of the nature of Nellie Ohr's work – after Fox News first reported on her connection to Fusion GPS.

Her husband, Bruce Ohr, was demoted at the DOJ last week for concealing his meetings with the same company, which commissioned the anti-Trump "dossier" containing salacious allegations about the now-president. Together, the Fusion connections for Mr. and Mrs. Ohr have raised Republican concerns about objectivity at the Justice Department, and even spurred a call from Trump's outside counsel for a separate special prosecutor.

Iranian soldiers from the Revolutionary Guards march in Tehran. Photographer: Atta Kenare/AFP/ Getty Images

Iranian Revolutionary Guards commander Qassem Soleimani says his nation is ready to support Palestinian forces in the Gaza Strip, days after the U.S. recognized Jerusalem as Israel's capital.

Soleimani, commander of the Al Quds force, made the offer in a phone call late Monday with leaders of groups in Gaza, according to the Revolutionary Guard Corps' website, Sepah News, which didn't give details of the assistance proffered. Other forces in the region are ready to defend the Al-Aqsa mosque in Jerusalem, Soleimani also told the Gaza faction leaders, without identifying them. The mosque is Islam's third-holiest shrine and a frequent flashpoint for tensions between Israel and the Palestinians.

 

Palestinians claim Jerusalem's eastern sector, where the mosque stands, as the capital of a future state, and they oppose the U.S. move. Hamas has called for another uprising against Israel in response, though so far protests have been limited.

 

A top member of President Trump's outside legal team called Tuesday for the appointment of a separate special prosecutor to look into potential conflicts of interest involving Justice Department and FBI officials.

Jay Sekulow made the call following a Fox News report revealing that the wife of a DOJ official demoted for concealing his meetings with the firm behind the anti-Trump "dossier" herself worked for the same firm, Fusion GPS, during the 2016 election.

Sekulow told Fox News that a special prosecutor should be appointed to look into these issues.

"The Department of Justice and FBI cannot ignore the multiple problems that have been created by these obvious conflicts of interests. These new revelations require the appointment of a Special Counsel to investigate," Sekulow also told Axios.

 

Over the course of six weeks, as staff for Vice President Mike Pence consulted with Palestinian officials in Washington to plan meetings and fashion an itinerary for his December trip to the West Bank, Pence himself was quietly pushing President Donald Trump to recognize Jerusalem as Israel's capital – a move the Palestinians now believe rendered their conversations moot.

Pence and his team were not surprised when Palestinian Authority leadership called off their meetings in the wake of Trump's December 6 announcement on Jerusalem – and have already filled in much of his scheduled day in Bethlehem with alternative plans, senior administration officials tell The Jerusalem Post.

Sources say little effort was made to salvage the meetings, and there has been virtually no direct communication between Pence's staff and Palestinian officials since the two sides began sniping over the Jerusalem decision in the press.

 

Russian President Vladimir Putin (L) and Turkish President Recep Tayyip Erdogan attend a meeting in Ankara on December 11, 2017. (AFP PHOTO / Sputnik / Alexei Druzhinin)

Russian President Vladimir Putin criticizes the US recognition of Jerusalem as Israel's capital, warning that it could destabilize the region and derail the Middle East peace process.

Speaking after a hectic day that took him from a Russian base in Syria to Cairo and Ankara, Putin says the US move "doesn't help the Mideast settlement and, just the other way round, destabilizes the already difficult situation in the region."

The Russian leader adds that it may "finish prospects for the Palestinian-Israeli peace process."

He adds that Moscow believes that the status of Jerusalem should be settled through talks between the Palestinians and Israel in line with United Nations resolutions.

Police have identified the suspect in an "attempted terrorist attack" near New York City's Port Authority bus terminal during Monday morning's rush hour — an explosion that prompted mass chaos and halted multiple subway lines, the NYPD said.

The suspected bomber was identified as 27-year-old Akayed Ullah. 

An "effectively low tech device" was detonated in a subway passageway just before 7:30 a.m., New York Gov. Andrew Cuomo said in a news conference.

"This is New York, the reality is that we are a target by many who would like to make a statement against democracy, against freedom," Cuomo said. 

PM Benjamin Netanyahu and EU foreign policy chief Mogherini brief the media in Brussels. (photo credit: AVI OHAYON - GPO)

Prime Minister Benjamin Netanyahu told the EU ministers he met in Brussels Monday that they needed to stop "spoiling" the Palestinians. 

Unlike the EU, Netanyahu said, US President Donald Trump told the Palestinian people the truth when he recognized Jerusalem as Israel's capital.

In a conversation with reporters on his plane before taking off from Brussels after meeting almost all of the EU foreign ministers, Netanyahu said settlements were not the core of the Israeli-Palestinian conflict. To the Palestinians, he argued, even parts of sovereign Israel, such as Jaffa, are "settlements." 

The prime minister also accused the EU of hypocrisy. The federation constantly nags Netanyahu on the question of settlements, but how often does it raise with the Palestinians the question of their failure to recognize Israel as a Jewish state? Netanyahu asked.

Israeli Prime Minister Benjamin Netanyahu gestures during a breakfast meeting with EU foreign ministers at the EU Council building in Brussels on December 11, 2017. (AFP PHOTO / POOL / Geert Vanden Wijngaert)

BRUSSELS — Prime Minister Benjamin Netanyahu cast doubt on the viability of a Palestinian state on Monday in a meeting with EU foreign ministers. Asked straight out whether he still supports a two-state solution, he responded by asking them whether such a state would be "Costa Rica or Yemen."

Speaking to reporters on board his plane after the breakfast meeting, just before taking off from Brussels, he also said that the European nations "spoil" the Palestinians, while US President Donald Trump, in recognizing Jerusalem as Israel's capital last week, "told them the truth."

Prime Minister Benjamin Netanyahu speaks during a conference at the foreign ministry in Jerusalem, December 7, 2017. Sebastian Scheiner/AP

PARIS – Prime Minister Benjamin Netanyahu strongly criticized Turkish President Recep Tayyip Erdogan on Sunday after the Turkish leader described Israel as a "terror state."

"Mr Erdogan has attacked Israel. I'm not used to receiving lectures about morality from a leader who bombs Kurdish villages in his native Turkey, who jails journalists, helps Iran go around international sanctions and who helps terrorists, including in Gaza, kill innocent people," Netanyahu said during a joint press conference with French President Emmanuel Macron in Paris.

Earlier on Sunday, Erdogan called Israeli forces "terrorists" and, responding to U.S. President Donald Trump's recognition of Jerusalem as Israel's capital, said, "We won't leave Jerusalem to the mercy of a child-murdering country." Erdogan also accused Israel of having no values other than "occupation and plunder." 
 
---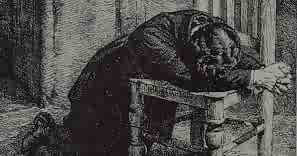 "The men who have done the most for God in this world have been early on their knees. He who fritters away the early morning, its opportunity and freshness, in other pursuits than seeking God will make poor headway seeking Him the rest of the day. If God is not first in our thoughts and efforts in the morning, He will be in the last place the remainder of the day." 
― E.M. Bounds